I

t looks like 2006 isn't going to turn out all that badly for US textiles. For one, there's
the modest 2- to 3-percent year-to-date gain in dollar shipments
of more highly fabricated textile products like home furnishings and carpets. And even if you
adjust for some modest price advances, the physical volume of these shipments has probably remained
pretty much unchanged from last year.
Apparel demand also is likely to end up in positive territory. Thus, apparel shipments so far
this year — contrary to earlier predictions — also are running above year-ago levels. And two new
reports suggest this encouraging trend will continue. One, from the Tempe, Ariz.-based Institute
for Supply Management, notes new gains in both apparel production and orders. And the other, from
the Washington-based National Retail Federation, sees 2006 holiday sales running 5 percent above
last year, as continuing income gains and lower gasoline tabs loosen consumer purse strings. All
this is good news for US textile producers, assuring them of a still-important domestic market for
their mill output.
Another upbeat sign is recently reported profit gains. That suggests that when the dust
finally settles on 2006, industry earnings and margins will actually be a bit better than those
reported last year.

Trade Developments


The import outlook also has become a
bit more encouraging in recent days. Overall year-to-date textile and apparel shipments on a
square-meters-equivalent basis — despite continuing Chinese inroads — haven't jumped nearly as much
as feared. Latest figures for the first eight months of 2006 show a less than 3-percent advance
when compared to 2006 levels. And based on talks with industry executives, this number isn't likely
to change much when the final 2006 results are tallied. This is a lot less than the better than
50-percent jump in these numbers over the previous four years, and the near double-digit advance
many analysts had projected earlier for 2006.
Mills also are being buoyed by Washington's new commitment to self-initiate dumping charges
once all quotas are removed. The move was directed at Vietnam, but it also would seem to be
establishing an important precedent for the Chinese problem. Clearly, the new approach could
facilitate similar self-initiated dumping cases against Beijing when all safeguards against that
nation's imports expire in January 2009.
Meantime, on a somewhat less optimistic trade note, a bill to impose a big 27.5-percent
tariff on all Chinese imports has been shelved temporarily. On the other hand, the legislation
could easily be reintroduced if the badly undervalued yuan doesn't show further signs of
appreciating over the next few quarters.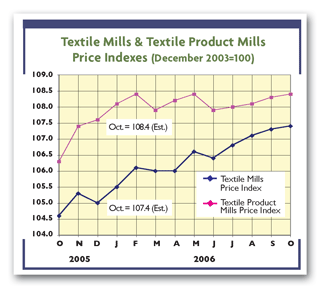 Some Price Thoughts

Recent price trends also can be
viewed favorably. While overall basic textile and textile mill product tags haven't gone up all
that much over the past year, the fact remains that these quotes are still up — a pretty good sign
markets are not quite as shaky as feared. More to the point: The 1- to 2-percent increases noted
for these two key textile categories aren't much under increases noted for all manufactured goods
over the same 12-month period.
Moreover, in some of the more important textile sectors, quotes have actually outpaced
general inflation. This is certainly true for greige goods and carpets, where prices in both
sectors are now running an impressive 4 to 5 percent above year-ago levels. Nor is this favorable
pattern likely to end anytime soon. For example, economic forecasting firm Global Insight, Boston,
sees tags on basic textiles, textile mill products and apparel all inching up another 1 to 1.5
percent for 2007.
Contributing to this positive price outlook are key factors such as still-rising consumer
purchasing power both here and abroad, and an increasingly savvy management that is increasingly
able to tailor output to meet today's fickle consumer-demand patterns. With the combination of
firmer price levels, extremely low labor-cost increases and relatively stable raw material quotes —
man-mades are up only 1 to 2 percent vis-à-vis a year ago, and cotton tags are actually lower — it's
easy to see why mill profits and margin levels are now topping year-ago levels.
---

November/December 2006