L

atest government price data indicate domestic and import price trends may be heading in
somewhat different directions. Since the end of last year, domestic quotes for both basic textiles
and more highly fabricated mill products have remained pretty much unchanged. Not so, however, in
the import sector, where new price indexes introduced this past year indicate incoming prices for
basic textiles and textile mill products have increased 3.5 percent and 1.5 percent, respectively,
since last December. More importantly, these trends are expected to persist through the remainder
of the year. If nothing else, this suggests the US-foreign textile price gap isn't getting any
worse and even may be narrowing a bit. Moreover, it's another sign the American textile industry is
still globally competitive.

Demand Trends Are Mixed, Too


The basically uneven activity pattern of the first half of the year also is continuing as
the current quarter draws to a close. Based on the latest available numbers, more highly fabricated
textile mill products like carpets, home furnishings and industrial products are still pretty much
holding their own — with year-to-date figures showing dollar shipments running better than 3
percent ahead of comparable 2005 levels. That's a pretty encouraging sign, given today's
competition from China and other foreign suppliers. However, the situation for more basic textile
products like yarns and fabrics is a lot less upbeat. Year-to-date dollar shipments in this sector
are down by more than 10 percent when compared to a year earlier. And if you factor in the
scattered price increases that occurred in late 2005, volume declines could be a bit more
precipitous.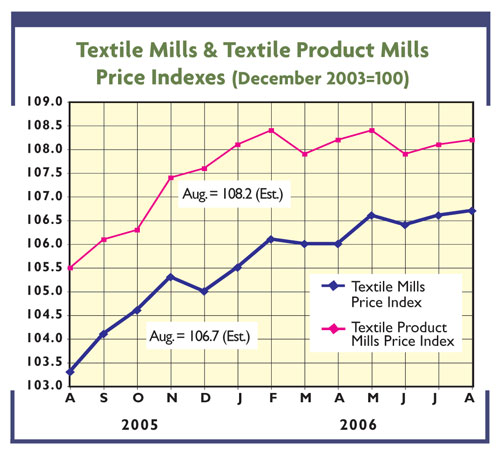 The Impact On Employment


These changing demand trends are also affecting overall domestic textile industry job
totals. Employment in the more highly fabricated textile product sector hasn't been doing all that
badly. The number of domestic workers employed here is down by only a small 2 percent when compared
to one year ago.
On the other hand, losses in the basic mill sector have been far more troublesome — with the
workforce in this sector declining by more than 10 percent over the past 12 months. Combine these
two key textile sectors, and employment totals are off by about 6.5 percent over the same 12-month
period. Again, that's not all that bad, given that industry productivity has increased by about 3
percent over the same period. If nothing else, it reinforces the contention that textiles are still
an important component of the US economy.
New National Council of Textile Organization (NCTO) figures would seem to back this up —
with the Washington-based group estimating there still are nearly 1 million workers employed in
textiles and related fields. NCTO further adds the industry still contributes $60 billion to US
gross domestic product and $16 billion to overall US export totals.

Trade Developments


Another piece of upbeat news — this time on the import front: Washington lawmakers have
okayed a bill that would increase the use of American trouser and pocket fabrics going into apparel
made in the Central America-Dominican Republic Free Trade Agreement (CAFTA-DR) region. To be sure,
this is hardly earthshaking news. On the other hand, it's a move in the right direction. More
importantly, it suggests the administration and Congress are finally working to make CAFTA-DR a
success.
And this can't be underestimated, for the CAFTA-DR region is the second-largest market for
US yarns and fabrics — with the US textile industry exporting more than $4 billion in textiles and
apparel to Central America. Also, apparel imported into the United States from CAFTA-DR countries
has on average more than 70-percent US content. That's in sharp contrast to apparel imported from
China, where the US fabric content is less than 1 percent. Another encouraging trade sign is the
lack of any big increase in overall US textile and apparel imports, which for the year to date
continues to run only 2 percent above comparable 2005 levels — a big improvement over 2005's hefty
10-percent jump.
September/October 2006