I
ndustry activity, despite the huge jump in Chinese imports, managed to hold its own
during the first quarter of 2005. Thus, the dollar volume of fabrics and other basic textile
shipments over this period remained pretty much unchanged from year-earlier levels. Sales of more
highly fabricated textile products like carpets and home furnishings were even able to eke out a
small dollar gain.
Another reassuring sign: Prices have continued to creep up, helping to offset continuing
man-made and cotton fiber cost increases. Basic mill and mill product quotes at last report were
running close to 2 percent and 4 percent, respectively, above year-earlier levels. Preliminary
first quarter profits, due out shortly, should still be in the black.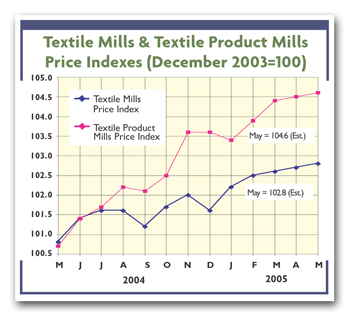 Inevitable Declines

It would be unrealistic to expect a continuation of this not-too-bad performance. Overall
textile activity should head down from here on in as soaring imports finally begin to have a
significant impact on domestic activity.
Compared to February levels, dollar shipments started edging down in March. Preliminary April
figures from the Institute of Supply Management (a grass-roots purchasing group) indicate this
slippage is continuing into spring. Second-quarter textile performance is likely to be
disappointing, and certainly substantially under first-quarter levels.

Drop Off

The big question is, just how disappointing? The answer depends on how much of an optimist you
are. A few still feel the wave of Chinese imports should begin to subside. These people blame the
huge import surge on one-shot pent-up demand following the recent ending of global quotas — adding
that gains soon will begin to taper off.
Not surprisingly, Beijing concurs — and now says April already shows some signs of slowdown,
with even more deceleration anticipated in coming months. But plenty of analysts disagree. They
point to both burgeoning Chinese capacity and that country's recent negative responses to US and
European criticisms.
Time will tell who's correct. For now,

Textile World
tends to agree with recent predictions made by Global Insight. A few months ago, this
economic forecasting firm began calling for a sizable decline — with 2005 basic mill and mill
product shipments falling 6 percent and 5 percent, respectively.

Beijing Moves

Just how accurate these estimates are will depend on what eventual compromises will be made by
the contesting parties. On the Beijing front, China is making changes in its tariff system, wherein
the government has raised duties on fast-growing export items like shirts and cotton pants. The
system would set different tariff ratios for different textile categories.
Another option: Chinese moves to reduce or eliminate its implicit and explicit export
subsidies. Then, there's growing belief China eventually will allow its currency to move up
vis-à-vis the dollar — something that would tend to raise the price of its textile and apparel
exports. But the question is, how much upward revaluation? Probably nothing earthshaking — with
little chance of the 25-percent or higher revaluation most economists say is needed to really have
a meaningful impact.

US Reaction

US moves to counter the Chinese threat also are hard to pinpoint. There could be more moves like
Washington's recent imposition of new quotas on seven categories of textile and apparel imports for
China
(See "
Textile World News,"
TW, this issue). Such safeguard moves could last only until the beginning of
2008 — and during this period, China still would be able to boost its textile exports by 7.5
percent a year.
Then there's the new congressional bill that would impose a 27.5-percent tariff on all
Chinese products entering the United States if China fails to raise the value of the yuan.
Going out longer-term, the pending Dominican Republic-Central American Free Trade Agreement
(DR-CAFTA) bill presumably would guarantee US mills a market for their goods by allowing apparel
produced in that region to enter the United States duty-free as long as products include a
substantial amount of US-made fabric and yarn.
June



2005