R
ecent declines in cotton tags are relieving some of the cost pressure on hard-pressed
mills. Spot quotes have been hovering in the low 40s range — some 35 percent under
earlier-in-the-year peaks, and about 20 percent under the 50 cents-per-pound and higher prices that
prevailed last summer.
Some upward correction can't be ruled out, but it's likely to be small, with cotton remaining
relatively soft through the rest of the year. Behind the slippage: revised forecasts calling for
higher production — with gains now projected for both US and global output. US production is now
pegged at near 18 million bales — 2.2 percent above earlier estimates and 11 percent above last
year's level.
A not-too-uncomfortable cost picture also seems to be shaping up in the man-made fiber
sector. True, some constructions like polyester and rayon are up — but only enough to offset
weakness in other areas. Upshot: Man-made price averages are pretty much where they were last year
at this time.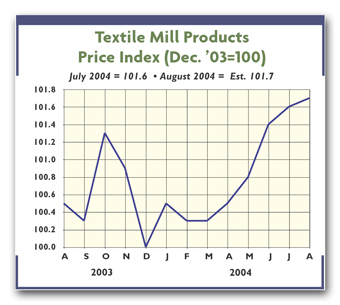 No Real Labor Headaches Either

Worker pay costs also remain pretty much under control. At latest report, average hourly
earnings in both the basic mill and textile mill product sectors were running less than 1 percent
above a year earlier. Equally important: Given estimated productivity gains over the same period,
unit labor costs have probably held steady or perhaps even declined a bit. Bottom line: Material
and labor costs haven't been posing too much of a problem — and aren't likely to do so in the
quarters immediately ahead.
The fact that all these costs haven't risen — when added to the recent bottoming-out in
demand and prices — helps explain how textiles (at least on an overall basis) have remained in the
black.
The latest Census Bureau profit numbers are on the anemic side — only about $110 million on
an after-tax basis was reported in the first quarter 2004. That's nowhere near the relatively
robust levels prevailing just a few years ago. Nevertheless, these figures do represent a positive
sign — helping to offset the import and other problems that have been plaguing the industry in
recent years.

A Near-Term Look Ahead

The remainder of 2004 doesn't seem to be shaping up all that badly. There are a few negative
factors that could affect textile and apparel demand — namely high energy costs plus the
diminishing stimulus coming from past tax cuts and home refinancings. On the latter score, such
refinancings are expected to drop 70 percent from the second to the fourth quarters.
While these developments will slow down economic growth, they won't stop it completely
because there's still an impressive array of plus factors operating. These include extremely high
consumer confidence; improving personal income (rising at a 6-percent rate in the second quarter as
income and job rates continue to inch up); and current relatively low interest rates, which,
despite recent increases, remain well under levels of a few years back.
It's a scenario that suggests 3-percent-or-so gross domestic product annual rates of gain for
both the third and fourth quarters — nothing spectacular, but probably enough to keep textile and
apparel buying at fairly firm levels.

Specific Projections

Mills are likely to fare considerably better than they did last year. Given current trends,
overall 2004 textile mill output isn't likely to fall more than 2 to 3 percent under the 2003
level. Hardly nirvana, but a heck of a lot better than the big 7-percent decline reported last
year.
Moreover, compare

Textile World
's second-half 2004 projections to actual second-half 2003 results, and the decline in mill
output pretty much disappears. Beyond year end, however, the picture becomes a little more fuzzy.
For one, the ending of import quotas in January is bound to have some impact. But where and to what
extent remain big questions.
Finally, there are general business conditions that traditionally become more iffy the
farther one goes into the future. Upshot: At this stage of the game, early 2005 textile mill
forecasts could be prone to considerable error. Nevertheless, a continuation of the current
flattening in demand and relatively unchanged prices is predicted — a not-all-that-downbeat
forecast given the industry's recent declines and all the uncertainties looming ahead.

September 2004