P

reliminary indications suggest another dismal quarter for the hard-pressed textile
industry. Fourth-quarter production will be lucky to equal poor third-quarter levels, as imports
continue to gain at a double-digit clip. Even previously strong denim is impacted by the rising
tide of foreign shipments. Similar disappointing trends are noted for prices, which remain pretty
much mired at recent low levels.
Not surprisingly, profits (where they still manage to exist) continue to shrink. All the
above virtually assure that final 2003 results won't make for a pretty reading.
According to most forecasts, domestic textile activity could be off 7 to 10 percent
vis-à-vis last year. Compare projected 2003 levels to the recent 1997 peak, and the decline has
been even more precipitous — something in the order of 25 percent. And all this has occurred at the
same time the overall US economy has continued to advance. Textiles and apparel now account for
only a miniscule 0.7 percent of overall US economic activity.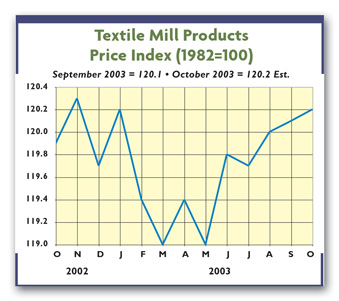 Rising Imports Also Hurt


Nor is it realistic to expect any appreciable slowdown in import gains — certainly not over
the next few quarters. To be sure, both industry spokesmen and many lawmakers continue to press for
changes in an undervalued Chinese yuan — a move that would tend to increase that nation's asking
prices. But little in the way of any appreciable near-term upward revaluation is anticipated. The
Chinese and many international economists fear that a significantly higher yuan could precipitate a
global financial crisis.
Moreover, it's not altogether clear how such a revaluation (even if it could be affected)
would impact our overall import totals. Many think any slowdown in Chinese shipments would simply
be offset by increased textile and apparel imports from other cheap-labor nations.

But Not Everything Is Negative


Despite all the above, there are some positive signs that suggest some fractional textile
advances will again be possible — perhaps by as early as next summer. Much of this optimism is
based on expectations of more robust GDP growth.
Right now, business forecasts call for a solid 3- to 4-percent growth rate over the next few
quarters, as the impact of recent tax cuts spreads through the economy. This, in turn, should begin
to translate into improved textile activity.
Changing company strategies also could play a major role as most big firms continue to
solidify and expand overseas supply contacts. True, this will contribute to further import gains.
On the other hand, these moves ensure survival, allowing the domestic industry to focus on what it
does best — establishing niche markets, as well as fine-tuning product design and development,
sales and marketing, and customer relationships.
Another upbeat sign —a just-released Labor Department study shows these annual efficiency
gains over the past 15 years: fiber, yarn and thread mills — 3.7 percent; fabric mills — 3.5
percent; textile and fabric finishing mills — 1.4 percent; apparel knitting mills — 2.7 percent;
and cut-and-sew apparel — 4.7 percent.

A Longer Look Ahead


All the above suggest the worst is over, and there's still a future for this hard-pressed
industry. Also supporting this relatively optimistic prognosis are the latest projections from
economic forecasting firm Global Insight. The company sees a bottoming out by the second half of
2004, with textile mill product activity for next year as a whole likely to be off only by about
2.4 percent in real terms. That's a lot better than the current year's estimated 8.4-percent
decline.
Beyond 2004, Global Insight analysts are even more upbeat, seeing relatively flat activity
through 2007 — the first non-negative numbers since 1997.
Gross operating profit margins are expected to edge ahead — rising from 18.8 percent this
year to 19.8 percent in 2004 and into the 20-percent-plus range over the subsequent three years.
Absolute gross profits are also targeted to rise — from $11.6 billion this year to $11.9 billion in
2004, with the uptrend continuing into 2007, when totals are expected to hit $12.6 billion.
November 2003