D

isappointing news continues to cast a pallor over the hard-pressed textile sector. Latest
numbers on orders, production sales, prices and profits show few, if any, signs of even a partial
industry recovery.
Equally significant is the increasing concern over the flood of imported textiles and
apparel, particularly from China. To be sure, pressure is being put on Washington to do something
about these incoming shipments. But there's little to suggest any meaningful relief, at least over
the next few quarters.
About the only positive news these days is the gradually strengthening economic outlook —
with gross domestic product gains finally beginning to point to a somewhat more robust consumer
buying trend. But even this isn't likely to translate into any meaningful near-term textile
turnaround. Indeed, most analysts are now reconciled to a rather lackluster 2003. The only
consolation is that any declines will be considerably less precipitous than those noted over the
past few years.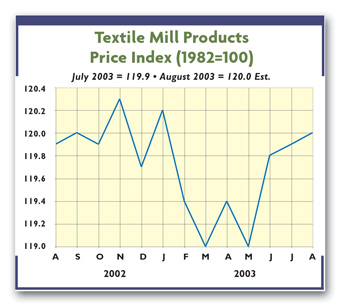 A Closer Look At The Numbers


Lest there be any doubt about the current less-than-optimistic picture, take a more detailed
look at the latest industry statistics. Mill production is running 7.5 percent under a year ago,
and a whopping 24 percent under three years ago. Textile mill shipments are off by an equally
disturbing 14 percent over the past year. And, since inventory cutbacks have not been able to keep
up with these recent drops, the industry's stock/sales ratio is once again on the high side (1.69
month's supply for mills now versus 1.44 a year ago).
However, there are bright spots. Denim demand has been on the rise for more than a year now.
First-quarter 2003 denim production at last report was running 8 percent above 12 months earlier.
But demand trends tell only part of the story. Equally important are textile prices. And here the
news is negative, with overall mill quotes failing to budge from depressed year-ago levels, despite
rising raw material and other costs. Zero in on a key area like greige goods, and prices actually
have eroded a bit compared to year-earlier levels.

Profits And Margins Take A Hit


The impact of all this sluggishness is taking its toll on bottom lines — with most mills
sporting declines vis-à-vis a year ago. Thus, the industry's overall after-tax earnings total has
dipped into red-ink territory, making it highly unlikely that mills will be able to even come near
last year's $626 million profit performance.
Similar negative results are reported for after-tax margins — with the first-quarter 2003
0.3-percent red-ink reading for profits per dollar of sales running well under last year's overall
1.3-percent positive rate. Much the same pattern is noted if you look at profits as a percent of
stockholders' equity. And the just-ended second quarter doesn't look any better, as such big firms
as Unifi and Dan River report losses.
The picture is even more disturbing when comparing recent results with those of 1998, when
after-tax profits were topping $2 billion — with a respectable 3.2-percent sales margin. Given
these numbers, it's not surprising that more and more firms are filing for Chapter 11 bankruptcy
court protection. The latest is Pillowtex — maker of such renowned brands as Fieldcrest, Cannon,
Charisma and Royal Velvet. And it follows similar proceedings by Burlington Industries, WestPoint
Stevens, Malden Mills, Guilford Mills and Galey & Lord.

Import Worries Persist


The Pillowtex move in large part stems from the influx of cheap imports from Brazil, India,
Turkey and China. But it's the latter nation that remains the industry's biggest headache — and not
only because China is now the biggest contributor to our soaring textile and apparel trade
deficits. More troublesome is the likelihood of an even bigger wave of incoming Chinese shipments
in 2005. Faced with these threats, the industry continues to step up its campaign for relief — not
only by pressing Uncle Sam to impose standards that were agreed upon when China entered the World
Trade Organization, but also by pushing for an upward Chinese currency revaluation.



September 2003