T

he latest textile numbers suggest the industry's fortunes are finally beginning to turn a
bit brighter. To be sure, some of the overall 2002-versus-2001 figures are still negative. But
these reported declines are far less precipitous than noted during 2000 and 2001, when mill output
fell 7.5 percent and 15 percent, respectively. And that's only part of the story. Much more
important – the new yearly numbers don't fully reflect the change in the underlying trend that has
been occurring over the past few quarters.
Example: while mill production for all of 2002 is down fractionally, the gradual bottoming
out that started last spring has actually lifted these output numbers close to 3 percent above
beginning-of-2002 lows. And pretty much the same is true of mill shipments, where early-in-the-year
declines have given way to a relatively flat pattern. A similar picture also is seen for prices,
where recent firming in selected mill areas contrasts to the intense weakness of earlier quarters.
And, last, but not least, profits are again edging into the black. Bottom line: the free fall of
the past few years may soon be little more than an unpleasant memory.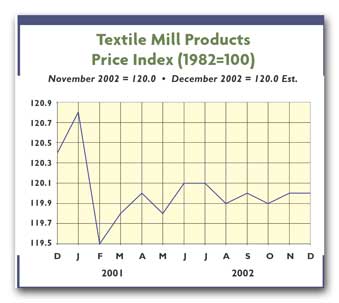 Factors Behind The Turnaround

All indications are that this improving textile picture will continue – not only through
2003, but also into the latter part of the decade. It's hard to ignore, for example, today's
combination of favorable signs
(See "
Textiles
2003," this issue). Not surprisingly,

TW
's analysts and most mill executives have turned cautiously optimistic. True, nobody
anticipates any return to the boom numbers of the late 1990s. Nevertheless, the betting is that
2003 will compare favorably with 2002 in such key areas as orders, output, sales and even profits –
assuming, of course, we can avoid a new, debilitating Middle East conflict. And what goes for the
new year also applies for the longer pull. Over the current decade, for instance, we now look for
steady to slightly higher mill activity – with most major mills not only surviving, but even
prospering.

A Detailed Look At Labor Trends

That's not to say that every single textile statistic will be turning around this year.
Textile employment, for example, will continue to shrink, as fewer and fewer workers are needed to
turn out a given amount of fabric and other textile products. But that's not all bad – except, of
course, for textile workers being laid off. Indeed, without more and more efficiency gains, the
industry would be in hot water – unable to compete in today's low-labor-cost global marketplace.
Moreover, this productivity trend will continue. On the other hand, the accompanying labor-force
shrinkage should be a lot less precipitous than noted over the past few years. That's because the
productivity gains from here on in should be partially offset by slowly improving demand levels.
During the new year, for example, the 3-percent or slightly higher projected efficiency increase
will be counterbalanced by a demand gain of about 0.5 to 1 percent, thus holding this year's
workforce reduction to only about 2 to 2.5 percent. That's a lot better than last year's close to
10-percent decline. It should also be pointed out that textile gains now equal or top those of many
other industries. And based on recent Bureau of Labor Statistics (BLS) projections, this
encouraging trend is expected to continue.

Textiles Versus The Overall US Economy

Nor is the solid progress on the productivity front the only area in which textiles compare
favorably with other domestic manufacturing industries. Production figures are equally encouraging,
with latest textile mill output figures currently running better than 2 percent ahead of a year
ago. That's actually better than the 1+ percent gain noted for overall US manufacturing activity
over the same period. Zero in on softgoods, where the overall US manufacturing pattern has been
flat – and textiles' progress looks even more impressive. Even in the pricing area, mills have been
holding their own vis-á-vis the rest of the economy. Specifically, the basically unchanged textile
price level of the last 12 months isn't all that different than the fractional 0.5-percent price
advantage reported for all finished goods. Indeed, international trade seems to be the only major
sector in which textiles continue to show up poorly relative to the rest of the economy.
Specifically, the industry's imports over the past year have continued to surge – in sharp contrast
to an overall US import gain of only 1.5 to 2 percent. Upshot: the US textile and apparel trade
deficit has skyrocketed to more than $60 billion – double the decade-ago level.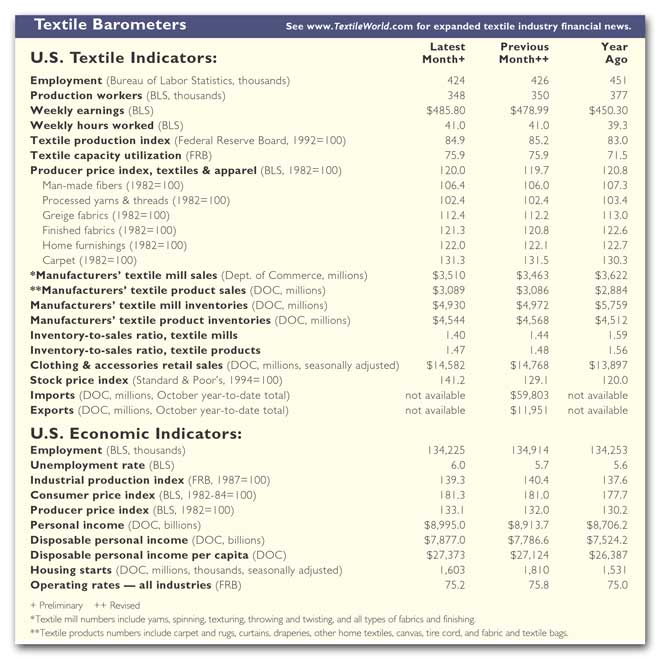 January 2003