C

oncerns about a double-dip recession – and its impact on overall sales and ultimately the
textile industry – seem to be overdone. To be sure, the gross domestic product (GDP) isn't
advancing at the robust rate of the late 1990s. But it's important to remember these earlier rates
were unsustainably high.
More important, there's still an imposing array of plus factors buttressing the economy.
These include: low inflation (less than 2-percent annual rate); rising real incomes (now running
close to 5 percent above a year ago); high home prices (enough to funnel $100 million into buyers'
hands over the past six months); near-record-low interest rates; and still-rising productivity.
Upshot: most business analysts remain quite optimistic. A new survey by the National
Association for Business Economics (NABE) predicts a 3-percent annual growth rate for the last six
months of 2002. And for the next year, NABE forecasters see an even better 3.4-percent overall
advance.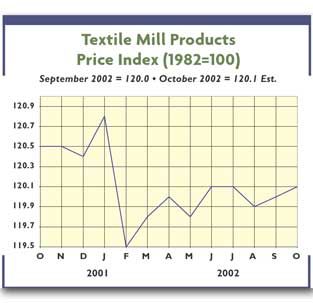 Fabric Markets Look A Bit Firmer


The improving macro picture is beginning to be reflected in some fabric sectors. Textile
purchasing executives are pretty consistently reporting modest gains in new orders and production
schedules. As for more specific trends, corduroy is looking quite buoyant – particularly in light
fabrics and materials going into sportswear.
Indeed, some corduroy people feel their fabric could even make inroads into denim markets.
Elsewhere, the trend towards a tailored look should help fabrics earmarked for suits. And DuPont
hopes to see gains from the introduction of its new, soft, drapey Sorona® stretch fabric. The
company feels this new product has great potential – given its soft hand, stretch-with-recovery and
dyeability qualities. DuPont also sees improvement in nylon going into both flooring and automotive
polymers. Lyocell fibers also are moving a lot better these days.

Productivity Gains Also Help


Some further comments on still-improving textile efficiency also are in order. The
substantial gains racked up here can perhaps best be appreciated by comparing recent changes in
output and employment. Over the past year, mill production has edged ahead about 2 percent. But
mill employment has declined by almost 9 percent. Implications: output per worker is running better
than 10 percent ahead of a year ago.
Even if you knock the number down by a few percentage points because of a longer mill work
week and possible statistical errors, it's still an impressive increase. It's a pretty strong
indication mills are succeeding in their efforts to keep labor costs down and hence survive in
today's increasingly competitive markets.

Profits Look A Bit Better, Too


Latest mill profit reports also suggest cautious optimism. New second-quarter Commerce
Department figures show after-tax profits per dollar of sales coming to 3.6 percent – a lot better
than the 0.2- and 0.7-percent readings of the previous quarter and year earlier, respectively. A
similar picture is seen for profits per dollar of stockholder equity. Here, the second quarter
figure comes to 13.0 percent. That compares to the 0.8- and 2.6-percent levels of the previous
quarter and year earlier. In short, the industry is managing to keep its head above water – with
preliminary indications suggesting these modest after-tax figures will persist for at least the
remainder of the year.
DRI-WEFA, a major economic consulting firm, also sees this trend continuing beyond year-end
– with profits holding near current levels through 2003. Go further out into the future, and the
outlook continues to be fairly bright – with a slow upcreep seen through the rest of the decade.
Indeed, by the year 2011, DRI-WEFA analysts see textile mills' gross profits rising about 16
percent above this year's estimated levels.

A Look At Long-Term Sales


DRI-WEFA doesn't seem all that negative about the textile industry's long-term sales
outlook, either. In any event, the big drop of recent years seems over. In fact, despite increasing
global competition, textile mill revenues are expected to remain near current levels through the
foreseeable future.
And, if you zero in on the carpet and rug sector, the outlook seems to be quite rosy.
DRI-WEFA is predicting significant advances in sales here – from an estimated $14.5 billion this
year, to more than $18 billion by the end of the decade – a gain of nearly 25 percent. The outlook
for apparel also seems far from disastrous – with only minimal further declines anticipated over
the next five to 10 years.



November 2002