M

odest mill improvement continues. Indeed, industry output is now running ahead of a year
ago for the first time in 2 1/2 years.
Zero in on broadwoven fabrics, and the figures are even more encouraging, with first-quarter
2002 activity running better than 7 percent above the previous quarter. And all fabric subgroups
except wool are sharing in the gain. A still-firming economy — bolstered by falling fuel prices,
low interest rates and high home tags — also should help in the months ahead.
These plus factors will more than offset the downward pressure of current Wall Street
turmoil. Not surprisingly, most economists remain optimistic.
A new Wall Street Journal survey of 55 top analysts puts 2002 gross domestic product (GDP)
growth at 3.5 percent. And profits, despite all the recent Wall Street financial deceits, should
continue to improve.
All this, in turn, would seem to assure more mill pickup — enough to push textile output up
another 1 percent by year's end.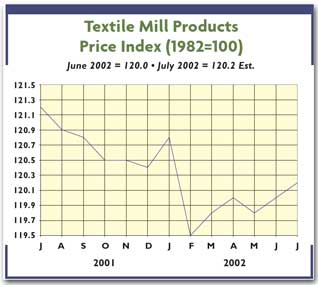 New Positive: 2000-2010 Projections


A just-released Bureau of Labor Statistics (BLS) long-term forecast also is encouraging. The
agency sees average annual textile output gains of 1 percent over the current decade.
That's a welcome change from the declines of recent quarters. And better-than-average
performances are seen for both the knitting mill and carpet subgroups (up 1.7 percent and 1.2
percent annually). Equally upbeat are the 1.3-percent annual gains expected for apparel.
In short, BLS analysts aren't buying all the recent gloom-and-doom textile forecasts. The
same study also suggests good news on the productivity front.
Compare projected declines in employment with the expected production advances, and overall
textile productivity could fare even better — with the estimated annual gain put at near 4 percent.

Prices Remain Sluggish


On a somewhat less rosy note, prices continue to present some problems as competition puts a
lid

on meaningful increases. To be sure, declines of the past year or two are over. But that's
about it.
Overall mill averages, for example, are still running about 1 percent under year-ago levels.
Equally significantly, these quotes are no higher than they were three years ago — in sharp
contrast to continuing increases in the general inflation level over the same period.
Nor is all this likely to change very soon — and for several reasons. For one, lower-priced
imports are still coming in at an impressive clip. Other price-rise inhibitors would have to
include competitive pressure from downstream manufacturers and retailers who are unable to boost
their own tags and from continuing excess capacity.
On this latter score, overall mill operating rates remain in the low 77-percent range — a
far cry from the more than 91-percent peak hit back in 1994.

Profit Data Are Revised


Worth noting for those tracking industry trends: Profit figures have been reclassified to
reflect the ongoing shift from the old Standard Industrial Classification (SIC) system to the new
North American Industry Classification System (NAICS). This had previously been done for shipments
and inventories.
One problem: Comparisons with earlier times won't be all that easy.
Nevertheless, there's some good news here. Fourth-quarter 2001 figures show the industry
eked out a small 0.7-percent return on sales. For 2001 as a whole, this margin figure was put at
0.4 percent — reversing the negative 0.6-percent reading of 2000. Yearly comparisons for profits as
a percent of stockholders' equity are even more favorable — 3.3 percent for 2001 versus a negative
2.8 percent in 2000.

Fiber Costs Edge Higher


But further earnings gains could be hard to come by because of competitive pressures and
somewhat higher fiber costs.
On the latter score, raw cotton is now near 40 cents per pound — up from the 30 cents per
pound lows of late last year. Blame it on forecasts for only a 17.8-million-bale domestic 2002/2003
crop year — down 2.5 million bales from 2002/2001. Foreign crops are also expected to be lower.
But, cotton quotes are still under a year ago, with few signs of any big spike, as the
projected domestic carryover remains at nearly double that of the 1999/2000 low. There's also been
some firming in man-mades. But here, too, hikes have been modest — with polyester staple remaining
well under year-ago levels.



August 2002