Terror Attacks Contribute To Economic Woes

The latest economic reports indicate a faltering U.S. economy that slid into recession in the
third quarter of this year. The unprecedented, vicious terrorist attacks on September 11
accelerated the downfall, as consumer anxiety rose and normal spending patterns were disrupted.
With increased security, consumer confidence is likely to be restored in the near future, and the
economy will rebound. Nonetheless, a recession is now unavoidable as consumer spending weakens
further due to widespread employment losses and the slashing of business capital spending budgets
continues.
In September, the U.S. economy lost 199,000 non-farm jobs, the largest decline since February
1991. The loss included 93,000 factory jobs. September 11 events had minimal impact on employment
counts due to timing and the underlying assumptions. The impact on payrolls will be more evident in
October's results. The September jobless rate was unchanged at 4.9 percent.
The Producer Price Index for finished goods rose 0.4 percent in September. Energy prices
jumped 0.9 percent, while food prices rose 0.2 percent. Excluding food and energy, the price index
was up 0.3 percent.
Consumer prices increased 0.4 percent in August, largely driven by apparel and energy costs.
Energy costs soared 2.6 percent. The core inflation rose 0.2 percent.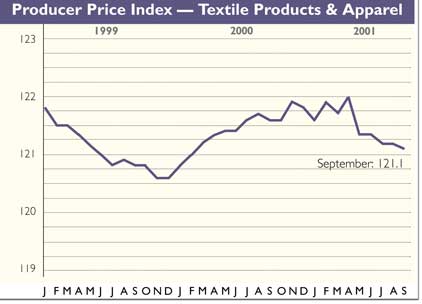 Trade Deficit Narrows

The U.S. trade deficit of goods and services narrowed in August to $27.11 billion from $29.17
billion in July and was the lowest level in 19 months. Exports — led by industrial supplies;
automotive products; and food, feeds and beverages — rose by 1.0 percent to $84.46 billion. Imports
declined 1.1 percent to $111.57 billion. Industrial production fell 1.0 percent in September. This
was the 12th consecutive monthly decline. Factory output fell 1.1 percent.
In the third quarter, industrial output plunged 6.2 percent at an annual rate, on top of
declines of 4.4 percent in the second quarter and 6.8 percent in the first quarter. Output fell
across all industries except for motor vehicles and parts, and lumber and products.
The operating rate of industrial capacity dipped to 75.5 percent in September and was the
lowest since June of 1983.
Housing starts rose 1.7 percent in September to an annual rate of 1.574 million units, but
declined 7.0 percent at an annual rate in the third quarter. Single-family units rose 0.6 percent
to 1.268 million.
Business sales edged up 0.1 percent
in August, while business inventories were drawn down 0.1 percent — the smallest drop in seven
months and a positive sign. As a result, the August inventory-to-sales ratio was left intact at
1.42.

Textile Mill Jobless Rates Decline Despite Job Cuts

Textile and apparel payrolls fell 0.9 percent in September, but the volatile jobless rate for
textile mill workers eased to 7.3 percent from 8.2 percent in August.
Textile output decreased 0.9 percent in September and tumbled 14.4 percent at an annual rate
in the third quarter — off 14.5 percent from a year ago. The utilization rate for textiles dropped
to 71.0 percent of capacity.
Shipments by textile producers declined 1.5 percent in August, while inventories were reduced
by 0.5 percent, causing the inventory-to-sales ratio to move up to 1.68 from 1.66.
Retail and food services sales collapsed 2.4 percent in September, as consumers avoided the
shopping malls after the terrorist attacks, while motor vehicle sales slumped 4.6 percent.
Excluding autos, retail sales were down 2.1 percent. Sales were up 3.0 percent at gasoline
stations, 0.8 percent at health and personal care stores and 0.4 percent at food and beverage
stores. Sales fell 0.4 percent for general merchandise, 1.5 percent for furniture and home
furnishings, 2.2 percent for building materials and hardware, and 5.9 percent for apparel and
accessories.
Producer prices of textiles and apparel edged down 0.1 percent in September. Prices rebounded
0.7 percent for synthetic fibers and 0.2 percent for finished fabrics. Prices retreated 0.7 percent
for greige fabrics, 0.4 percent for processed yarns and threads, 0.3 percent for carpets and 0.2
percent for home furnishings.
November 2001