Further Rate Cuts Expected

What a difference one year makes. Last year, the Federal Reserve was raising interest rates
to cool off the economy. Higher rates combined with skyrocketing energy prices and the sharp drop
in stock prices to more realistic levels led to a complete reversal in economic trends. With most
of the latest economic barometers indicating the economy is on its way to a recession, the Federal
Reserve cut rates on April 18 by another 1/2 point. Further rate reductions are likely before the
U.S. economy is on safe ground.
Nonfarm payrolls were slashed by 86,000 jobs in March, the largest monthly drop since
November 1991. Factories reduced payrolls by 81,000 jobs and the jobless rate rose to 4.3 percent
in March. Nevertheless, first-quarter nonfarm payrolls rose by 343,000 jobs, up 1.2 percent from a
year ago. With most companies reducing or planning to cut payrolls to improve earnings, the danger
is that the U.S. economy will be pushed into recession despite sharply lower interest rates.
The producer price index for finished goods fell 0.1 percent in March as energy prices
declined by 2.6 percent. Excluding food and energy, the price index rose 0.1 percent in March.
Consumer prices edged up 0.1 percent in March as energy prices retreated 2.1 percent, while
the core index rose 0.2 percent. Obviously, inflation is no longer a concern.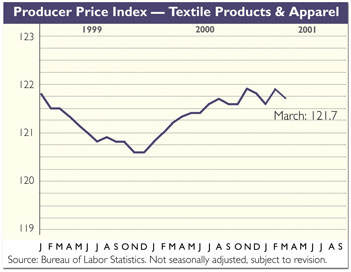 Trade Deficit Down Sharply


Industrial production rose 0.4 percent in March, the first increase since September, driven
mainly by a 7.0-percent jump in output for motor vehicles and parts and a 1.1-percent increase in
utilities output. Production was down for most other industries. First-quarter industrial output
plunged 4.7 percent at an annual rate, the largest decline since the first quarter of 1991.
The operating rate edged up to 79.4 percent but was 2.5 percent below the average for
1967-2000.
Housing starts slipped 1.3 percent in March to 1.613 million units. The weakness was in
single family homes, as multi-family units surged 10.3 percent to 0.372 million. Starts soared 23.0
percent at an annual rate in the first quarter.
The nation's trade deficit fell sharply in February to $26.99 billion from a record $33.25
billion in January. The trade gap was the smallest since November 1999. Exports rose 1.0 percent to
$90.46 billion, up for the second month in a row. Imports plunged 4.4 percent to $117.45 billion,
the largest drop on record. The decline in imports was widespread — another sign that the economy
has fallen in hard times.
Business sales dropped 0.3 percent in February, while business inventories were drawn down
by 0.2 percent. The inventory-to-sales ratio remained unchanged at 1.37 in February.

Producer Price Index Up For Finished Fabrics, Home
Furnishings


It is difficult to be positive about textile and apparel results in the current economic
environment. Textile output dropped 1.3 percent in March following a gain of 0.5 percent in
February. The operating rate for textiles dipped to 75.2 from 76.0 in February.
Sales by textile manufacturers bounced 0.8 percent in February, while inventories were
reduced by 0.7 percent. The inventories-to-sales ratio fell to 1.69 from 1.72 in January.
Industry payrolls decreased by 0.4 percent in March, after plunging 1.3 percent in February.
The jobless rate for textile mill workers lowered to 6.1 percent from 8.5 percent in February.
Retail sales declined 0.2 percent in March. Auto dealers' sales fell 0.8 percent, and
furniture sales were off 0.7 percent. First-quarter retail sales grew 4.5 percent at an annual
rate. Consumer spending will be the only driving force to keep the economy afloat.
Apparel and accessory store sales retreated 0.7 percent in March, after rising 0.6 percent
in February.
Producer prices of textiles and apparel declined 0.2 percent in March. Prices rose 0.2
percent for finished fabrics and home furnishings. Prices were down 0.1 percent for synthetic
fibers, 0.3 percent for greige fabrics, 0.8 percent for processed yarns and threads, and 3.5
percent for carpets.



May 2001