T
he latest economic reports show a weak U.S. economy in December. The Federal Reserve,
concerned that the weakness could develop into a full-fledged recession, reduced short-term rates
by one half a point well ahead of its scheduled meeting at the end of January. With inflation at
bay, further rate cuts are likely to follow.
The nation created 105,000 new jobs in December, after adding only 59,000 jobs in November.
The goods-producing sector lost 78,000 jobs, including 62,000 factory jobs and 13,000 construction
jobs. Total non-farm payrolls in 2000 grew by 1.91 million jobs, or 1.5 percent, down from 2.2
percent in 1999.
The unemployment rate held steady at 4.0 percent in December. In 2000, the jobless rate
averaged 4.0 percent, down from 4.2 percent in 1999 — the lowest in more than three decades.
The price index for finished goods was unchanged in December. The core index, which excludes
energy and food, jumped 0.3 precent in December.
Consumer prices rose 0.2 percent in December. Energy prices were also up 0.2 percent. In
2000, energy prices shot up 14.2 percent, following a double-digit gain in 1999. The surge in
energy prices sent the cost of living up 3.4 percent from December 1999. For all of 2000, consumer
prices rose 3.4 percent, up sharply from 2.2 percent in 1999. The core inflation edged up 0.1
percent in December and increased 2.6 percent from a year ago.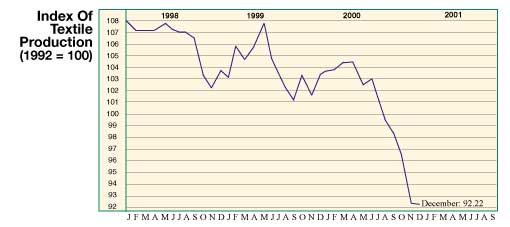 Industrial Output Up Despite Recent Declines

Industrial output in December declined for the third month in a row, falling 0.6 percent in
December and 0.3 percent in each of the previous two months.
Output contracted at an annual rate of 1.1 percent in the fourth quarter of 2000, the first
decline since 1991.
Production of motor vehicles and parts plunged 4.1 percent in December, after taking a
6.7-percent dive in November. Nevertheless, for all of 2000, industrial output grew 5.6 percent,
the highest increase since 1997.
The operating rate fell to 80.6 percent of capacity, down from 81.4 percent in November. This
rate was 1.5 percentage points below its 1967-1999 average.
Housing starts, at an annual rate of 1.575 million units in December, were virtually flat
from 1.570 million in November. Higher mortgage rates in 2000 forced housing activity down 4.4
percent to 1.59 million units.
Business sales fell 0.3 percent in November following a 0.5 percent loss in October.
Meanwhile, business inventories grew 0.5 percent.
The inventory-to-sales ratio inched up to 1.36 in November from 1.35 the previous month, the
highest ratio since April 1999.

Textiles Operating Rate Holds Steady; Producer Prices Show Mixed
Results

In 2000, the textiles and apparel industries did not fare well despite an overall robust U.S.
economy. Textile output was down 0.1 percent in December, after plunging 4.5 percent in November.
For all of 2000, the industry's output declined 3.7 percent.
The operating rate for textiles held steady at 75.2 percent of capacity in December. In 2000,
the industry operated at 81.0 percent of capacity, down sharply from 83.1 percent in 1999.
Shipments by textile manufacturers fell 1.1 percent in November, and inventories were down by
0.3 percent, resulting in an inventory-to-sales ratio of 1.69.
The industry's payrolls were slashed 1.2 percent in December. In 2000, textile employment
averaged 541.2 thousand jobs, down 3.4 percent from 1999. The unemployment rate for textile mill
workers jumped to 4.8 percent in December.
December retail sales were up 0.1 percent, and automotive sales rose 0.3 percent, while
general merchandise sales declined 0.8 percent. Total retail sales in 2000 grew 7.9 percent.
Apparel and accessory sales rebounded 0.9 percent in December. Total sales in 2000 grew 5.2
percent, after a 6.4 percent gain in 1999.
Textile and apparel producer prices edged down 0.1 percent in December. Prices rose 2.3
percent for carpets, 0.2 percent for greige fabrics and 0.1 percent for finished fabrics. Prices
were unchanged for home furnishings and synthetic fibers, but declined 0.3 percent for processed
yarns and threads.
February 2001