T

he evidence from the latest set of economic reports is that the American economy is
slowing down in response to the higher interest rates and rising energy prices earlier in the year.
As a result, the Federal Reserve will most likely avoid another rate hike in its October meeting.
With consumer spending slowing down and exports weakening, manufacturers trimmed their
August payrolls by 79,000. A further drop in the number of temporary census workers took out
158,000 jobs from August's non-farm payrolls, while the strike by communications workers at Verizon
temporarily reduced employment by 85,000. As a result, total non-farm employment declined by
105,000 jobs in August. After factoring out the effects of the strike, the private sector created
only 102,000 jobs in August. This is a clear sign of a weakening economy.
The August jobless rate edged up to 4.1 percent from 4.0 percent in July.
The Producer Price Index for finished goods fell 0.2 percent in August, as energy and food
prices declined. Excluding food and energy, however, the price index edged up 0.1 percent in August
for the second month in a row. This clearly shows that inflation is under control.
A 5.9 percent plunge in energy prices pushed consumer prices down 0.1 percent in August, the
first decline since April 1986. The core inflation rate was up 0.2 percent for the fifth month in a
row.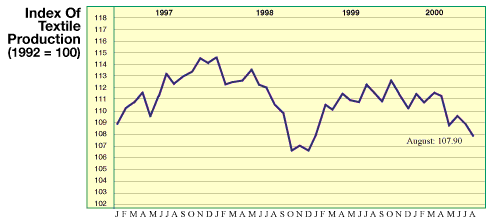 Industrial Production Shows Modest Gain


ndustrial production grew 0.3 percent in August, after staying flat in July. A 4.0 percent
surge in utilities' output was the main factor for the growth. Manufacturing output edged up 0.1
percent in August for the second month in a row, another sign of a slowing economy. Also, the
operating rate of industrial capacity edged up to 82.3 percent from 82.2 percent in July.
New housing construction was virtually flat in August. Housing starts rose 0.3 percent to a
still strong annual rate of 1.53 million units. Single-family units jumped 4.6 percent to 1.26
million, after falling 1.8 percent in July. Multifamily units, however, plunged 15.9 percent to
0.27 million in August, on top of a 6.7 percent drop in July.
The U.S. trade deficit of goods and services ballooned in July to a record $31.89 billion
from $29.85 billion in June. Exports, hurt by a strong dollar and sluggish growth in Europe, fell
1.5 percent to $89.67 billion. The decline reflects declines in exports of industrial equipment,
autos and consumer goods. Meanwhile, record oil imports pushed total U.S. imports up 0.6 percent to
$121.56 billion.
Business sales retreated 0.4 percent in July, as durable goods sales declined 0.8 percent.
Meanwhile, business inventories grew 0.2 percent. As a result, the July inventory-to-sales ratio
inched up to 1.33 in July from 1.32 the previous month.

Textile, Apparel Payrolls Rise; Synthetic Fibers Prices
Rebound


esults for textiles and apparel were mixed. Payrolls rose 0.3 percent in August, after
plunging 1.3 percent in July. The jobless rate for textile mill workers dropped to 3.2 percent from
3.9 percent in July.
Textile output declined 0.9 percent in August, after falling 0.7 percent in July. Output was
3.4 percent below the year ago level. The utilization rate eased to 81.8 percent of capacity from
82.5 percent in July.
Shipments by textile producers declined 1.0 percent in July after rising 1.7 percent in
June. Inventories grew 0.2 percent, pushing the inventory-to-sales ratio up to 1.61 from 1.59.
August retail sales rose 0.2 percent, after a July gain of 0.9 percent. Dur-able goods sales
were flat, as motor vehicles sales dropped 0.4 percent. Sales inched up 0.1 percent for building
materials and hardware. Sales of general merchandise rose 0.2 percent and surged 1.1 percent for
furniture and home furnishings. Apparel and accessory sales moved up 0.3 percent.
Producer prices of textiles and apparel were unchanged in August. Prices rebounded 0.7
percent for synthetic fibers after falling 0.9 percent in July. Prices edged up 0.1 percent for
finished fabrics and home furnishings, were flat for greige fabrics, and fell 0.1 percent for
carpets and for processed yarns and threads.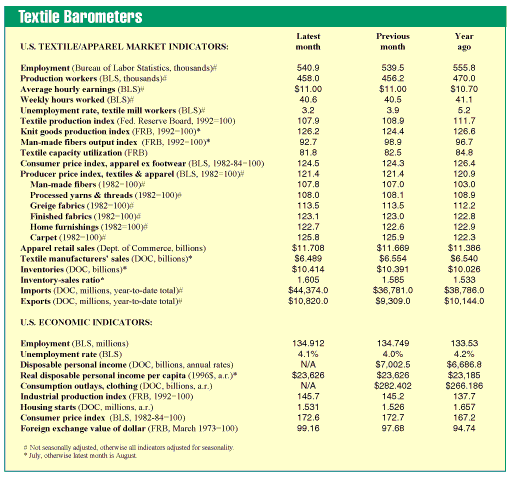 October 2000