U.S. Economy Hits Tenth Year Of Expansion — Longest In U.S.
History

T
he U.S. economy ended 1999 on a high
note. Real GDP grew at a speedy 5.8-percent annual growth rate in the fourth quarter, on top of a
robust gain of 5.7 percent in the third quarter. Consumers contributed more than 60 percent of the
gain, while the inventory buildup accounted for one-quarter of the overall increase. The price
index jumped 2.0 percent at an annual rate in the fourth quarter, up sharply from 1.1 percent in
the summer, which has upset the markets.
For the year, the economy grew 4.0 percent, following strong gains of 4.3 percent in 1998
and 4.5 percent in 1997. Despite booming growth for three consecutive years, the GDP price deflator
rose only 1.4 percent in 1999.
The latest economic data indicate the U.S. economy continues to be strong. It entered the
tenth year of expansion, which is the longest in the nation's history.
The Producer Price Index for finished goods was unchanged in January, following modest
increases of 0.1 percent in December and 0.2 percent in November. Consumer prices rose just 0.2
percent in January for the fourth month in a row. The price index also rose 0.2 percent in January
and was up 1.8 percent at annual rate in the last three months.
While inflation seems to be well-behaved, the Federal Reserve, concerned about wage
inflation, wants to cool the pace of economic activity and is likely to boost short-term rates up
by a total of one-half of a percentage point.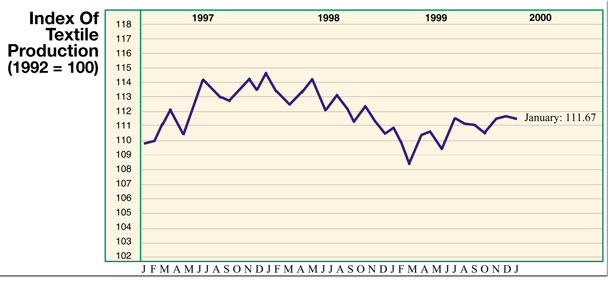 Industrial Production Enjoys Largest Gain In 18 Months

I
ndustrial production surged 1.0
percent in January as factory output grew 0.9 percent and utility output shot up 1.8 percent. This
was the largest gain in 18 months.
The overall industry operating rate climbed to 81.6 percent from 81.1 percent in December,
but remained still below its historical average of 82 percent.
January's housing starts rose 1.5 percent from December to 1.775 million at an annual rate
and were at the highest level in 12 months.
The nation's trade deficit in goods and services narrowed to $25.548 billion in December
from $27.103 billion. For all of 1998 the trade gap soared 65 percent to a record $271.31 billion.
Exports grew only 2.6 percent to $958.5 billion, while imports surged 12 percent to $1,229.8
billion.
Business inventories grew 1.0 percent in December, on top of a 1.1-percent rise in November.
Meanwhile, business sales grew 1.1 percent in December, after rising 1.5 percent in November. As a
result, the inventory-to-sales ratio edged down to 1.32 from 1.33 in December, which is low by
historical standards.

Textile Shipments Rebound; Consumer Spending Increases

R
esults for the textile and apparel
industry were mixed. Textile output bounced 0.7 percent in January and the operating rate edged up
to 84.7 percent of capacity from 84.1 percent in December.
Shipments by textile manufacturers rebounded 0.4 percent in December after falling 1.4
percent in November. Meanwhile, inventories rose 0.5 percent. The inventory-to-sales ratio inched
up to 1.55 in December from 1.54 the previous month. For all of 1999, textile shipments declined
2.7 percent to $78.3 billion from 1998.
The industry's payrolls continued to shrink, falling 1.0 percent in January. The jobless
rate for textile mill workers rose to 5.9 percent from 4.8 percent in December, but was lower than
6.9 percent a year ago.
Consumer spending rose 0.3 percent in January following a blistering 1.7-percent gain in
December. Retail sales declined 0.3 percent after surging 1.9 percent in December. Apparel and
accessory stores had a good month with sales up 0.7 percent.
Producer prices of textiles and apparel declined 0.2 percent in January. Prices declined 0.7
percent for finished fabrics; 0.6 percent for synthetic fibers and carpets; and 0.1 percent for
processed yarns, threads and home furnishings. Prices rose 0.4 percent for greige
fabrics.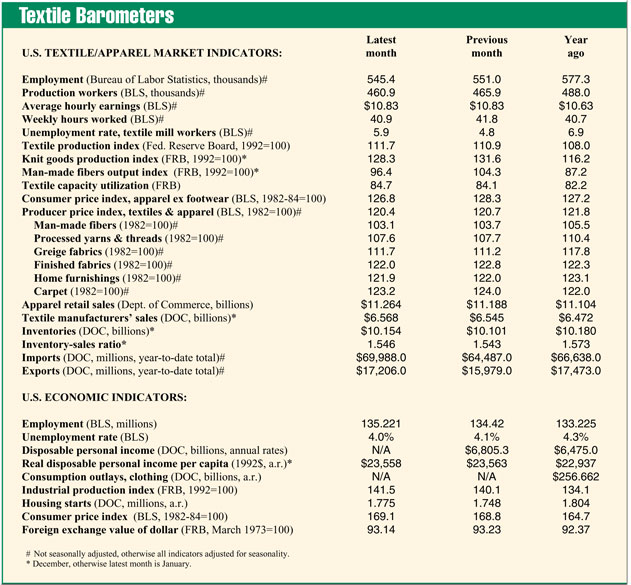 March 2000