U.S. Economy Closes Out The 20th Century With Robust Growth;
Inflation Well Under Control

The latest economic reports show that growth of the U.S. economy in its final stretch for the
20th century was robust, with booming retail sales, falling unemployment and still low inflation.
The jobless rate held steady at 4.1 percent in November, close to the lowest rate in more
than three decades. The economy added jobs at a fast clip, while workers put in more hours per week
in November despite some weakness in manufacturing. Nonfarm payrolls grew by 234,000 jobs in
November, on top of a 263,000 gain in October. The November gain was in line with the average of
the last 12 months. Construction employment rose by 55,000 jobs. Manufacturing job losses of only
2,000 nearly vanished in November after dropping by 36,000 a month during the first half of 1999.
Despite tight labor markets, inflation is still well under control. The Producer Price Index
for finished goods rose 0.2 percent in November as energy prices jumped 1.4 percent. The core
index, however, which excludes food and energy prices was unchanged in November.
The Consumer Price Index inched up 0.1 percent in November as energy prices remained flat in
November.
The core inflation rose 0.2 percent for the second month in a row. From a year ago, overall
consumer prices have moved up 2.6 percent, due to a 10.6-percent surge in energy prices, but the
core inflation rate rose only 2.1 percent, which is better than 2.4 percent in 1998.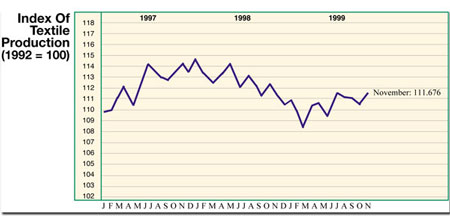 Industrial Output Grows; Housing Starts Still Strong Factor In U.S. Economy

Industrial output grew 0.3 percent in November after rising 0.8 percent in October. Warm weather
cut into electricity and natural gas demand forcing utilities' output down. Factory output rose 0.5
percent.
The operating rate held steady at 81 percent of capacity in November, which is well below the
levels that typically result in an upward pressure on inflation.
Construction on new homes weakened in November reflecting the effects of higher mortgage
rates. Builders started work on 1.60 million units, off 2.3 percent from 1.637 million in October.
Single-family units came down 3.6 percent, while multi-family units rose 3.7 percent. By
region, housing activity was mixed.
Starts shot up 14.8 percent in the West to 417,000 units and rose 2.1 percent to 147,000
units in the Northeast.
Conversely, starts fell 6.8 percent in the Midwest to 356,000 units and took a 9.9-percent
dive in the South to 417,000 units.
Business sales advanced 0.5 percent in October and business inventories rose 0.2 percent in
October. The inventory-to-sales ratio, however, was left virtually unchanged at 1.33.

Textile Shipments Rise, Consumers Get The Holiday Buying
Spirit

Results for textiles and apparel were disappointing. Textile output eased 1.1 percent following
a strong gain of 2.8 percent in October. The operating rate for textiles fell to 85.8 percent from
86.7 percent in October, according to revised data back to 1992. The industry's output in 1999 was
0.6-percent higher than previously reported by the Federal Reserve.
Shipments by textile manufacturers were strong rising 1.8 percent in October after slipping
0.2 percent the previous month. With inventories down 0.4 percent in October, the
inventory-to-sales ratio dipped to 1.52 from 1.56 in September.
Industry payrolls slid 0.2 percent in November, after falling 0.5 percent the previous month.
The jobless rate for textile mill workers, not adjusted for seasonal variation, jumped to 5.8
percent from 3.2 percent in October.
Consumers were in a full holiday buying mood in November. Retail sales surged 0.9 percent.
Apparel and accessory stores did well with sales gains of 0.8 percent in November. Producer prices
of textiles and apparel were unchanged in November. Prices rose 0.1 percent for gray fabrics and
were flat for processed yarns and threads. Prices fell 0.2 percent for finished fabrics, and 0.1
percent for synthetic fibers and for carpets.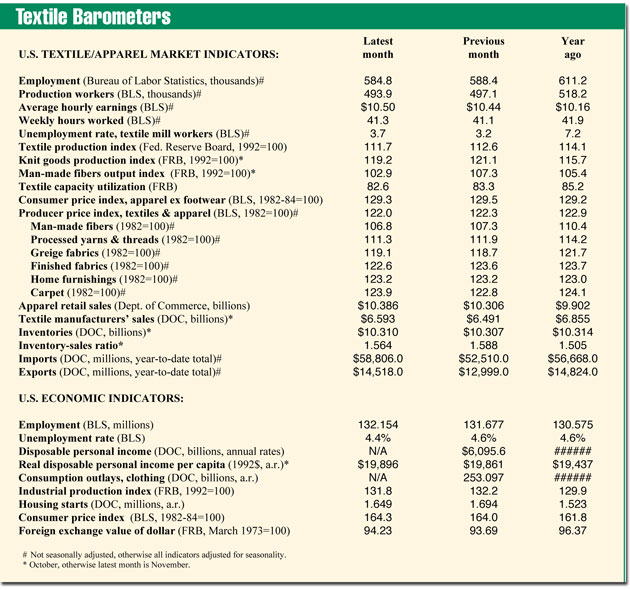 ---

January 2000