The
Carpet America Recovery Effort (CARE), Dalton, Ga., has named Dalton-based
Columbia Recycling Corp. CARE Recycler of the Year.
Lawrenceville, N.J.-based
Datacolor's Datacolor Technology Suzhou, China, laboratory has received ISO/IEC
17025:2005 accredidation for calibration. The company also has revamped its website, located at
datacolor.com.
Visual Impressions Inc., Milwaukee, has become the 50th company to earn
Sustainable Green Printing Partnership certification.



Clariant AG, Switzerland, has released ColorForward™ Interiors, a color and trend
forecasting guide for fibers and textiles.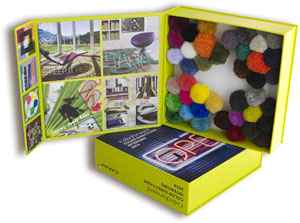 Clariant's ColorForward™ Interiors
The Boulder, Colo.-based
Outdoor Industry Association's Sustainability Working Group has launched a pilot
program for its Chemicals Management Framework tool, which helps companies assess their chemical
usage.
Chandler, Ariz.-based
Bonded Logic's UltraTouch™ Denim Insulation now is sold at six Home Depot stores
in Northern California.
Mount Holly, N.C.-based
American & Efird LLC's dye house in Dongmei, China, has received a Nike
Materials Sustainability Index (MSI) award.
Skins Compression Clothing has relocated its headquarters from Portland, Ore., to
364 Second St., Ste. 6, Encinitas, Calif., 92024; +760-203-3631.



Herculite Products Inc., Emigsville, Pa., has added Herculite Military 20696 to its
product line.



Aurora Specialty Textiles Group Inc., Aurora, Ill., received the Specialty Graphics
Imaging Association's 2013 Sustainability Recognition Award for the third consecutive year.
Morgantown, W. Va.-based
SustainU has launched the Wear One, Share One program in which online customers
will receive a free 100-percent recycled-content T-shirt with each SustainU purchase.
May/June 2013