Germany-based
H. Stoll GmbH and Co. KG has made its website, stoll.com, available in Russian.
Dalton, Ga.-based
Shaw Industries Group Inc.'s Shaw Living division has published the annual Shaw
Living rug catalog for retailers; and its showroom has received an award from AmericasMart Atlanta
for "Best of Floor for Outstanding Visual Display." In other company news, Shaw's Tuftex – Carpets
of California division has launched the FloorView app that enables users to use their iPhone® or
iPad® to view different carpet styles in a digital room setting.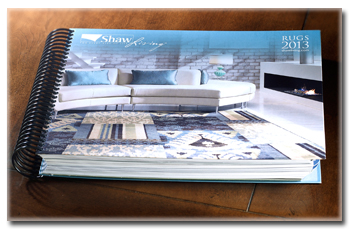 Shaw Living's 2013 rug catalog



The Norcross, Ga.-based
Technical Association of the Pulp, Paper, Packaging and Converting Industries
(TAPPI) is accepting nominations through Aug. 1, 2013, for the TAPPI 2014 awards.
Nominations may be emailed to standards@tappi.org; faxed to +770-446-6947; or mailed to TAPPI,
Awards Department, 15 Technology Pkwy South, Peachtree Corners, Ga., 30092.
The International Oeko-Tex Association, Switzerland, announces that companies
holding Oeko-Tex® certifications may advertise free of charge on its website, oeko-tex.com, by
entering their product portfolios via the updated Oeko-Tex Buying Guide or the Self Service Portal.
The Association also is giving away iPod Nanos to 10 of the first 100 companies that advertise
using the aforementioned options.
United Kingdom-based
Camira Fabrics Ltd.'s Hemp fabric and Wichita, Kan.-based
Invista's CORDURA® Denim, Duck and Naturalle™ fabrics have been named to New York
City-based
Material ConneXion Inc.'s Materials Library.
New York City-based
Source4Style has launched an online swatch sampling service from which its global
users may order from among 5,000 swatch samples.
Boulder, Colo.-based
Outlast Technologies Inc.'s Outlast® temperature-regulating technology is featured
in Yummie by Heather Thomson's Yummie Comfort Control collection of women's shapewear.
Minneapolis-based
Zepol Corp. has updated TradeIQ Export, its U.S. export bill of lading database,
with expanded data.
Erlanger, Ky.-based
MAG IAS LLC has received a Frost & Sullivan 2013 Manufacturing Leadership 100
Award in the "Game-Changing Technologies" category for its cryogenic machining process.
Hong Kong-based
Litrax AG has received a "Top 5 Fibres Innovation" award for Fall/Winter 2014-15
at ISPO 2013 for its L2 fiber and filament technology.
Johnston, S.C.-based
Riegel has added the Pearl color to its RieNu® by Riegel 100-percent recycled
polyester table linens made from EcoSure® post-consumer recycled polyethylene terephthalate fiber.
West Bloomfield, Mich.-based
Crypton Inc. is celebrating 20 years in business and has unveiled Crypton 2.0
partially biobased fabric featuring improved stain resistance, breathability and soft hand.
Ferndale, Wash.-based
Samson Rope Technologies Inc. has updated its website, located at samsonrope.com.
Cincinnati-based
Cintas Corp. has released its 2013 Uniform Book.
Emigsville, Pa.-based
Herculite Products Inc. has introduced the Herculite® Excel M Series™ of
high-performance fabrics for awnings and canopies. The fabrics feature good pliability and a matte
polyvinylidene difluoride 8-year finish, and are heat-sealable, waterproof and fire-and
ultraviolet-resistant.
Ann Arbor, Mich.-based
CIMdata Inc. has published the report "3D Geometric Search."
Farrar, Straus and Giroux, New York City, has published "The Upcycle: Beyond
Sustainability-Designing for Abundance," by William McDonough & Michael Braungart.
March/April 2013