Israel-based
Nilit Ltd. has released its Bodyfashion Trendbook covering bodywear and activewear
trend concepts for Autumn/Winter 2014/15.
Teijin Ltd., Japan, has received a Grand Award at the nano tech 2013 International
Nanotechnology Exhibition and Conference in recognition of the potential and wide-ranging
applications of Teijin's technologies.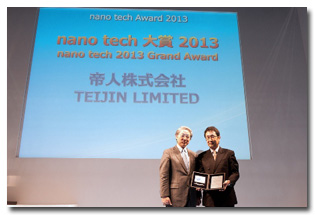 Teijin has received a nano tech 2013 Grand Award.


Vancouver, Canada- and Portland, Ore.-based
Crailar Techologies Inc. has for the third consecutive year been named to the 2013
TSX Venture 50, which recognizes strong-performing publicly traded companies on the TSX Venture
Exchange.
Austria-based
Lenzing AG has released its Lenzing Color Trends Autumn-Winter 2014/15, a 52-page
brochure available for download at
lenzing.com/en/fibers/service/trends/trends-autumn-winter-20142015.html.
The
International Oeko-Tex Association, Switzerland, announces that Italy-based
Rivolta Carmignani S.p.A. has received Oeko-Tex® standard 1000 certification for
its production facility; and Switzerland-based
Odlo International AG has received Oeko-Tex standard 100 certification for most of
its products. Oeko-Tex has named both Rivolta Carmignani and Odlo International as its December
2012 Companies of the Month.
Dalton, Ga.-based
Shaw Industries Group Inc. has for the third consecutive year received a "Partner
of the Year" award from Carpet One Floor & Home. In other company news, Shaw Industries Group's
Shaw Living division has launched the 60-piece Melrose collection of vibrant-colored rugs; has
added the Al Fresco, Suncoast, and Garden Craft collections to its indoor/outdoor rug offerings;
has added 24 designs, all featuring its ombre yarn-dyeing technique, to its Mirabella rug
collection; and has added six designs to its Arabesque collection and three to its Loft collection.
Shaw Living also has launched its World Market umbrella collection.
Camira Fabrics Ltd., United Kingdom, has launched the Monroe pattern of dobby
weave upholstery fabric available in 18 colorways; and Denim, a twill weave 90-percent
wool/10-percent FR viscose fabric available in 18 colorways.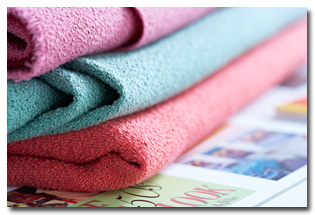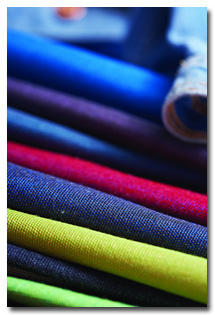 Camira's Monroe (top) and Denim (bottom) fabrics


Visual 2000 International Inc., Montreal, has made available the Visual Viewer™
Version 2 product lifecycle management mobility app for the iPad®; and has launched the
VisualWebStore.net™ e-business solution.
Gainesville, Fla.-based
Quick-Med Technologies Inc.'s NIMBUS® antimicrobial technology has been awarded
U.S. Patent No. 8,343,523 titled "Disinfectant with Durable Activity Based on Alcohol-Soluble
Quaternary Ammonium Polymers and Copolymers."
Phenix City, Ala.-based
Johnston Textiles Inc. had introduced the Retro and Cirque contract upholstery
patterns.
The
American Down and Feather Council, New York City, has introduced a series of
information sheets titled "Factzzz on Down and Feather."
Trendway Designs LLC, Phenix City, Ala., has launched an online store, located at
trendwaydesigns.com.
The American Association of State Highway and Transportation Officials' (AASHTO's) National
Transportation Product Evaluation Program (NTPEP) Geotextile Technical Committee Work Plan has
awarded a certificate of compliance to Summerville, S.C.-based
Thrace-LINQ Inc. and Toccoa, Ga.-based
Crown Resources.
Red Bank, N.J.-based
Concept III Textiles International has introduced Lifestyle Layer, a new outdoor
apparel category.
The following products from Australia- and New Zealand-based Charles Parsons'
Merino State brand received International Trade Fair For Sporting Goods and Sports
Fashion (ISPO) 2013 Textile Awards: Merino/Thermo°Cool stretch jersey, in the Innovative Base Layer
category; Merino/Cotton Heritage Knit, Innovative Mid-Layer; and the M-Shell Series, Innovative
Outer Layer.
The following products from North Vancouver, Canada-based
Arc'teryx have received ISPO 2013 Textile Awards: Macai Jacket and Alpha SV Bib
CZ, ISPO Gold Awards; and Khamski Pack and Cerium LT Jacket, ISPO Awards.
Paris-based
Première Vision S.A. has launched maisondexception.com, an online magazine
dedicated to handcrafts and artisanal workmanship.
The Carpet and Rug Institute (CRI), Dalton, Ga., has published "The Carpet
Chronicles: Highlights from the CRI Blog for Retailers and Their Customers," an interactive e-book
designed to help retailers better serve their customers.
O'Donnell, Texas-based
Textile Exchange (TE) has issued a call for papers for the 2013 Textile
Sustainability Conference, to be held November 11-13 in Istanbul. The deadline for submissions is
February 22. TE also has been named a network partner of the FabricLink Network (FLN), Reseda,
Calif.; and its portal page is accessible via links on the technicalcenter.com and fabriclink.com.
The
Alpaca Owners and Breeders Association (AOBA), Nashville, Tenn., has launched its
new website, located at alpacainfo.com.
Forge Graphic Works, Portland, Ore., has received Sustainable Green Printing (SGP)
Partnership certification for its printing facility.
Paris-based
JEC Group is accepting applications for speakers at its JEC Asia Composites Show
& Conferences 2013 Innovative Composites Summit, to be held June 25-27, 2013, in Singapore; and
nominations for the JEC Asia Innovation Awards, to be presented at the JEC Asia Composites Show
& Conferences. Deadline for submissions is March 19.
Painesville, Ohio-based
Avery Dennison Performance Tapes has launched a new website, located a
tapes.averydennison.com.
Aurora, Ill.-based
Aurora Specialty Textiles Group Inc. has added the Sub-Suede and Universal Knit
400 FR styles to its Northern Lights™ printable textile collection.
SMARTEX-2013 Conference organizer
Kafrelsheikh University, Egypt, is accepting submissions for abstracts through
August 9 for the conference, to be held Nov. 19-21, 2013, in Egypt. Deadline for full paper
submission is September 19. More information may be found at kfs.edu.eg/engkfs.
Ireland-based
Research and Markets Ltd. has published "Smart Fabrics and Interactive Textiles –
Global Strategic Business Report 2012"; "Smart Textiles and Nanotechnologies: Applications
Technologies and Markets"; "From Fibre to Store: Developments in Apparel and Household Textiles
Market"; and "Textiles — Global Outlook."
Fairlawn, Ohio-based
Omnova Solutions Inc. has renamed its Decorative Products business segment
Engineered Surfaces.
Brockton, Mass.-based
Bureau Veritas Consumer Products Services (BVCPS) has introduced a mold and mildew
prevention program, including product testing and educational seminars, for manufacturers and
retailers of apparel, shoes and leather goods.
West Chester, Pa.-based
Price Hanna Consultants LLC has published the report "Global Outlook for Hygiene
Absorbent Products and Key Raw Materials in 2011, 2012 and 2017."
Portland, Ore.-based
SKINS® Compression Clothing has been named the "Official Recovery Compression"
brand of the National Hockey League's West Conference teams.
Minneapolis-based
Conwed has updated its website, located at conwedplastics.com.
Italy-based
Eurojersey S.p.A. has launched its Sensitive® Fabrics Ready2Wear collection for
Summer 2014.
Schlossberg, Switzerland, has introduced a line of Global Organic Textile
Standard-certified organic towels.
February 2013