The residential portion of Dalton, Ga.-based
Shaw Industries Group Inc.'s Shaw Living division now will be sold under the
Tuftex – Carpets of California division.
The American Association of Textile Chemists and Colorists (AATCC), Research
Triangle Park, N.C., has introduced customized icons for smartphones, which enable AATCC members to
link directly to AATCC Membership Services.
Innegra Technologies LLC has relocated to 270 Feaster Rd., Greenville, S.C.,
29615.
Tatham Ltd., United Kingdom, has published a catalogue outlining its medical
textile machinery range.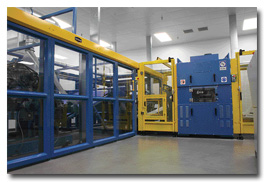 One of Tatham's medical textile machinery lines
The Hosiery Association, Charlotte, has created a new member verification badge
for official distribution to participating legwear companies.
RadiciGroup, Italy, has published its 2011 Sustainability Report.
Johnston Textiles Inc., Phenix City, Ala., has added the top 25 colors of its
Interweave collection to its two-day to two-week delivery program.
Woolrich, Pa.-based
Woolrich Inc. has released "WoolrichUSA.com," a digital storybook and catalog
detailing the company's 182-year-old manufacturing history and 2012 collection of Made in the USA
wool blankets.



TenCate Geosynthetics North America, Pendergrass, Ga., has released a new TenCate
Geotube® 101 video: Session 3 Dewatering Technology.
Bridgedale, United Kingdom, has named
Terramar Sports Inc. as its distributor in the United States and Canada.
The Hohenstein Institute, Germany, now offers testing and certification of gloves
according to the following standards: Protective gloves – general requirements and test methods
(DIN EN 420); Protective gloves for firefighters (DIN EN 659); Protective gloves against chemicals
(DIN EN 374); Protective gloves against mechanical risks (DIN EN 388); Protective gloves against
heat and fire (DIN EN 407) Protective clothing for users of hand-held chainsaws (DIN EN 381-7); and
Protective gloves for welders (DIN EN 12477).



The International Oeko-Tex Association, Switzerland, has introduced a Self Service
Portal for its online Oeko-Tex® Buyer's Guide, in which companies may enter their product
portfolios free of charge. In addition, the company has announced that Ontario-based
MW Canada Ltd.'s custom window coverings and specialty fabrics and
Switzerland-based
Triumph International Spiesshofer & Braun KG's product lines have received
Oeko-Tex Standard 100 certification; and Sweden-based
Textilintrycket i Borås AB's production facility has received Oeko-Tex Standard
1000 certification.
Aurora Specialty Textiles Group Inc., Aurora, Ill., has added Silver with
adhesive, Diamond with adhesive and Acquasun to the DECOPRINT® fabric line from DHJ International.
Madeira USA Ltd., Laconia, N.H., now offers nine colors of its Fire Fighter
fire-resistant 100-percent aramid embroidery thread in 2,734-yard put-ups.
Northbrook, Ill.-based
UL has relocated its Enfield, Conn., consumer products testing laboratory to 1559
King St., Enfield, CT, 06082. All other contact information remains the same.



Strathmore Carpet One Floor & Home, Atlanta, now offers "Beautiful Design," a
digital magazine for iPad available free of charge to its customers from the Apple App Store.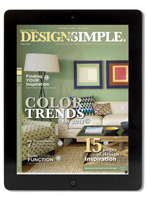 Strathmore Carpet One Floor & Home's new digital magazine
Research and Markets Ltd., Ireland, in association with The Textile Institute,
United Kingdom, has published the "Handbook of Sustainable Textile Production."
Phenix City, Ala.-based
Trendway Designs LLC has launched an online store, located at trendwaydesigns.com.
Ontario-based
iFabric Corp.'s Intelligent Fabric Technologies subsidiary has received U.S.
Environmental Protection Agency registration for its Cliniweave antiviral technology.
Darn Tough Vermont, Northfield, Vt., has been ranked second in Inc.'s Hire Power
Awards to private business job creators in Vermont.



ColorTex Inc., New York City, has launched a website, located at colortexinc.com.
January/February 2013