Pendergrass, Ga.-based
TenCate Geosynthetics North America has released a TenCate Geotube® Project
Profile video explaining its work on the Incheon Grand Bridge in South Korea.
Rochester, N.H.-based
Albany International Corp. has for the second consecutive year been named a
Business Partner of the Year by The Procter & Gamble Co. (P&G).
Japan-based
Teijin Ltd. has for the fourth consecutive year been named to the Dow Jones
Sustainability World Index (DJSI World).
The
International Oeko-Tex Association, Switzerland, has revised its website, located
at oeko-tex.com. In other news, the company has certified
Gildan Activewear Inc., Montreal, to the Oeko-Tex® Standard 100, and has nominated
Gildan for the Oeko-Tex Sustainability Award; and has certified
Veramtex S.A., Belgium, to the Oeko-Tex Standard 1000.
France-based
Première Vision S.A. has presented 2012 PV Awards to the following:
Ricciarini Tessile, Italy: Grand Jury Prize and the Innovation Prize;
Jackytex – Tessuti A Maglia S.p.A., Italy: Handle Prize; and
Nikke – The Japan Wool Textile Co. Ltd., Japan: Imagination Prize.
Phoenix-based
Mutoh America Inc. has received Specialty Graphic Imaging Association (SGIA)
Product of the Year awards in the Grand Format Roll to Roll – Solvent & Latex Inks category for
its ValueJet 2638 printer, and in the Poster Size – Solvent/Latex Printers less than 96 inches for
its ValueJet 1638 printer. In other news, the company's SpectroVue VM-10 spectrophotometer has been
awarded U.S. Patent No. 8,279,441.
Carlstadt, N.J.-based
Pantone LLC has released the Pantone® View Colour Planner Spring/Summer 2014
edition.
The
Global Organic Textile Standard and its 25-percent stakeholder the United
Kingdom-based
Soil Association have launched a campaign under the slogan, "Have you cottoned on
yet?" and a website, located at cottonedon.org, to raise awareness among consumers, nongovernmental
organizations and brands of the benefits of organic cotton and to promote its use.
Wichita, Kan.-based
Invista's Cordura® Ultra Lite Fabric was used in the Summer12 Project Outdoor
Retailer winning design – a menswear-inspired jacket created by Katy Jessee. In other company news,
Yoshida & Co., Japan, has selected Cordura fabric for use in its Porter Musette, Porter Dill
and Porter Fit bags; and Deane Apparel, New Zealand, has selected Cordura Denim fabric for use in
its men's Urban Deane Short and Jean.
The
American Apparel & Footwear Association (AAFA), Arlington, Va., has published
its ApparelStats 2012 report.
Dalton, Ga.-based
Shaw Industries Group Inc.'s Tuftex division, Santa Fe Springs, Calif., has
released a pro-carpet video series to the company's retailer partners.
Jeanologia, Spain, has launched a new website, located at jeanologia.com.
Pasadena, Calif.-based
Avery Dennison Corp.'s Avery Dennison Medical Solutions business unit, Chicago,
has received 510(k) clearance from the U.S. Food and Drug Administration for its BeneHold™
Chlorhexidine Gluconate Transparent Film Dressing.
The
American Association of Textile Chemists and Colorists (AATCC), Research Triangle
Park, N.C., is now accepting applications for the 2013 AATCC Concept 2 Consumer® Design
Competition, Ooh La Leggings! For more information, contact Suzanne Holmes +919-549-3537;
holmes@aatcc.org.
Ventura, Calif.-based
Patagonia Inc. has launched the Common Threads Second Home initiative at its
Portland retail location, where it will accept used Patagonia clothing for trade-in and sale.



Celanese Emulsion Polymers, a division of Dallas-based Celanese Corp., has launched
a new website, located at celanese-emulsions.com.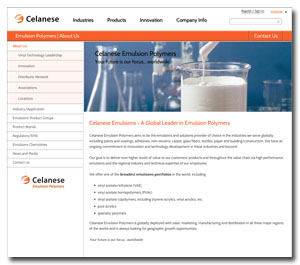 The homepage on Celanese's new website.


Mount Holly, N.C.-based
American & Efird Inc. (A&E) has released its 2011-2012 Sustainability
Report.
Chomarat, France, has been certified to the EN 9100: 2009 quality management
standard for the aerospace industry.
Italy-based
Thermore has launched a new website in conjunction with its celebration of 40
years in business. The website, located at thermore.com, features updated graphics and content.
Pawtucket, R.I.-based
Cooley Group has received the 2012 EcoPrint Europe Great Innovation Award for its
Enviroflex™ PE lightweight 100-percent recyclable print media.
The
Secondary Materials and Recycled Textiles Association (SMART), Bel Air, Md., has
released Wear It? Recycle It! grade-appropriate educational curricula presenting information on
recycling clothing and other textiles.
Phenix City, Ala.-based
Johnston Textiles Inc. has introduced the Odyssey Collection of upholstery fabrics
in four patterns and color collections.
Cincinnati-based
Cintas Corp. has launched a new website dedicated to its flame-resistant apparel,
located at cintas.com/flameresistantclothing. In addition, the company is accepting applications
through Feb. 28, 2013, for its second annual Cintas & Carhartt Cold Crew Contest, which
recognizes North American workers who withstand tough winter working conditions. Contestants may
apply at cintas.com/carharttcoldcrew.
Modular carpet designer
FLOR Inc., a division of Atlanta-based Interface Inc., has opened retail stores in
Palo Alto, Calif., Scottsdale, Ariz., Denver, Seattle and Toronto.
West Chester, Pa.-based
Price Hanna Consultants LLC has published the report "Spundbonded and Spunmelt
Nonwoven Polypropylene World Capacities, Supply/Demand and Manufacturing Economics 2006, 2012 and
2016."
New Haven, Mo.-based
MarChem CFI Inc. has introduced Top Notch Elite, a 9-ounce solution-dyed fabric
that offers improved tear strength, abrasion resistance and breathability, as well as good water
resistance.



Bemis Associates Inc., Shirley, Mass., has launched a new website, located at
bemisworldwide.com.
New York City-based
Global Sourcing & Enterprise Apparel (GSEA)
Fashion Group LLC is now operating an apparel manufacturing plant in Lima, Peru. A
video of the company's history may be viewed at vimeo.com/gseafg/nycperu.
Ann Arbor, Mich.-based
CIMdata Inc. has published two white papers: "Creating Simplicity from Complexity
to Achieve Market Success," and "Beyond Simulation Data Management."
Camarillo, Calif.-based
Euro & O'Reilly Corp. has introduced a new line of microfiber household
towels.



Port Logistics Group, Houston, has added 700,000 square feet of warehouse space to
its City of Industry, Calif., retail distribution campus.
November 20, 2012