Switzerland-based
Clariant International Ltd. has launched the Clariant Denim Book, which offers an
overview of denim manufacturing from cotton to fashion. The book may be downloaded at
advanceddenim.clariant.com.
Germany-based
DiloGroup's website, dilo.de, is now available in German, English, French,
Spanish, Italian and Chinese.
The Arlington, Va.-based
American Apparel and Footwear Association has published updated Chinese and
Vietnamese language versions of its Restricted Substances List covering apparel, footwear and home
textiles, available at wewear.org.
The
International Oeko-Tex Association, Switzerland, has awarded Oeko-Tex® Standard
100 certification to products offered by the
YKK Group, Japan; and Oeko-Tex Standard 1000 certification to
Tejidos Royo, Spain, as an environmentally friendly production site.
The Research Triangle Park, N.C.-based
American Association of Textile Chemists and Colorists (AATCC) is soliciting
abstracts for its 2013 International Conference, to be held April 9-11, 2013, at the Hyatt Regency
in Greenville. AATCC is seeking abstracts for its three educational tracks: Chemical Applications,
Materials and Concept 2 Consumer. More information may be found at aatcc.org/ic/index.cfm.
Bellefonte, Pa.-based
NanoHorizons Inc. has been awarded US Patent 8,183,167 B1 for its wash-durable,
effective antimicrobial and antifungal textile.
The Woolmark Company, Australia, has launched "Wrapped in Merino," a social media
campaign allowing participants to collaboratively design a giant virtual scarf that will be
submitted to RecordSetter for inclusion in the organization's list of world records. More
information may be obtained at https://www.wrappedinmerino.com.
The
Carpet and Rug Institute, Dalton, Ga., is relocating to 100 S. Hamilton St.,
Dalton, Ga., 30720. Phone and fax numbers remain the same.
Israel-based
Nilit Ltd. has released its Bodyfashion Trendbook covering bodywear and activewear
trend concepts for Spring/Summer 2014.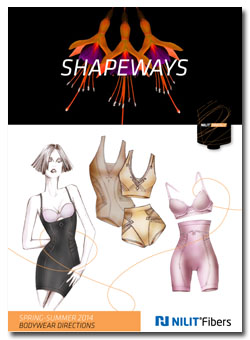 Nilit's Spring/Summer 2014 Bodyfashion Trendbook


The
Wallcoverings Association, Chicago, is offering a continuing education course on
its Sustainability Standard. Information may be obtained by contacting info@wallcoverings.org;
+312-321-5166.
Nashville, Tenn.-based
Bulwark FR, a division of VF Corp., has released "451 Degrees," a short film
covering fire safety in the industrial workplace. The film may be viewed at bulwark.com/451.
United Kingdom-based
Americhem Europe Ltd. has for the second time received The Queen's Award for
Enterprise by Her Majesty The Queen in the International Trade category in recognition of the
company's commitment to growth in recent years.
Phenix City, Ala.-based
Textest has launched an online ordering service for textile testing, available at
textest.com.
Carmel, Ind.-based
Top Value Fabrics has launched a Print Media category website, located at
topvaluefabrics.com/digital-and-screen-printable-banner-media.html.
Quebec-based
Victor Group Inc.'s 100-percent Eco Intelligent® polyester yarn-dyed panel and
healthcare cubicle products have attained Silver level compliance with the NSF/ANSI 336:
Sustainability Assessment for Commercial Furnishings Fabric.
Ireland-based
Research and Markets Ltd. has published "Trends in U.S. Textile and Clothing
Imports, 2012 Edition"; and "Plunkett's Apparel & Textiles Industry Almanac 2012: Apparel &
Textiles Industry Market Research, Statistics, Trends & Leading Companies."
The Alexandria, Va.-based
Textile Rental Services Association has added a General Membership classification
for private- or public-sector organizations that process their own textiles.
Ann Arbor, Mich.-based
CIMdata has published a paper titled "Executing Effectively from Design to
Manufacturing."
June 2012