The
U.S. Department of Labor has introduced a free mobile application that offers
current employment data and economic news releases from the Bureau of Labor Statistics and the
Employment and Training Administration. The application is currently available for iPhone and
Android phones as well as iPod Touch devices, and versions are under development for BlackBerry and
iPad devices. The application may be downloaded at
dol.gov/dol/apps.
The Arlington, Va.-based
American Apparel & Footwear Association (AAFA) has released the ninth edition
of the AAFA Restricted Substances List (RSL) for home textiles, apparel and footwear applications.
The list is available at no charge at
apparelandfootwear.org/Resources/RestrictedSubstances.asp.
Dalton, Ga-based
Shaw Industries Group Inc. has released its third annual corporate sustainability
report, which may be accessed at
shawgreenedge.com.
The Research Triangle Park, N.C.-based
American Association of Textile Chemists and Colorists (AATCC) has released its
Color Guidebook, which may be purchased and downloaded by visiting
http://members.aatcc.org and clicking "Store."



Huntsman Textile Effects, Singapore, has collaborated with Source4Style and
Co-Founder Summer Rayne Oaks to create "How to Lose Water Weight," a video about sustainability in
the textile industry. A copy may be obtained by contacting
pr@huntsman.com.
The Cary, N.C.-based
Association of the Nonwoven Fabrics Industry (INDA) has introduced "INDA on the
Issues," a members-only section of its website that provides information on critical legislation
and regulations impacting the domestic and global operations of INDA member companies, and which
may be accessed at
http://imisw.inda.org/wcm/. INDA also has released a
Segment Analysis Report on the Nonwoven Cartridge Market for Swimming Pools and Spas, available at
inda.org.
Boulder, Colo.-based
Outlast Technologies Inc. has updated its website, located at
outlast.com.
Calhoun, Ga.-based Mohawk Industries Inc.'s commercial carpet division,
The Mohawk Group, has released its first product catalog, which contains
comprehensive information on all of the company's products. The catalog is available in print as
well as a digital version, which may be downloaded at
mohawkgroup.com. A smartphone application will be released
in November.
Germany-based
DiloGroup has launched its new website, located at
dilo.de.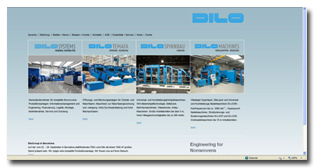 DiloGroup's new website
The
International Organization for Standardization (ISO), Geneva, has published a
two-part ISO standard incorporating Six Sigma performance-improvement methodology: ISO 13053-1:2011
Quantitative methods in process improvement — Six Sigma — Part 1: DMAIC methodology; and ISO
13053-2:2011 Quantitative methods in process improvement — Six Sigma — Part 2: Tools and
techniques.



The Hohenstein Institute, Germany, has developed a new hygiene certificate for
hotel and kitchen laundry. The institute also has updated its website, located at
hohenstein.com.
The Woolmark Company, Australia, has launched the second phase of its three-year
global campaign, "Merino. No Finer Feeling™," which promotes the natural benefits of Australian
merino wool fiber and includes seven images and a short film; and has updated its website, located
at
merino.com. Woolmark also has released "The Wool Lab," its
latest color and trend presentation for Autumn/Winter 2012-13.
The Fibertect® nonwoven decontamination wipe, developed at the Lubbock, Texas-based
Texas Tech University Institute of Environmental and Human Health, was among seven
innovations featured in National Guard Magazine's New Innovations Timesaver List.
West Conshohocken, Pa.-based
ASTM International's Committee D13 on Textiles has introduced two ASTM Proficiency
Testing Programs (PTPs) on Textiles: Textiles (Light, Medium and Heavy-Duty Woven Fabric); and Yarn
and Thread Performance Testing. Information is available by contacting
ptp@astm.org or visiting
astm.org/STATQA/textiles.htm.
Frankfurt-based
Messe Frankfurt Exhibition GmbH has released the Heimtextil 2012/2013 Trend Book.
More information about the book may be obtained at
heimtextil-trends.com.



Zepol Corp., Minneapolis, has released the report "U.S. Import and Export Summary,"
available at
zepol.com.
Tokyo-based
Teijin Fibers Ltd. has been named to the Dow Jones Sustainability World Index for
the third consecutive year.
United Kingdom-based
Satra has launched "Within REACH," a quarterly newsletter aimed at helping
companies understand Registration, Evaluation and Authorization of Chemicals (REACH) Regulations.
For more information, contact
reach@satra.co.uk.
Columbus, Ohio-based
Momentive Performance Materials Holdings LLC has published its 2010 corporate
sustainability report, titled "The Science Behind a Sustainable Future." The report is available atmomentive.com.
Madeira USA, Laconia, N.H., has added Dallas-based Graphic Solutions Group (GSG)
as a distributor in Texas.
England-based
Mudpie Ltd. has updated its online bookstore, located at
trendbookshop.co.uk.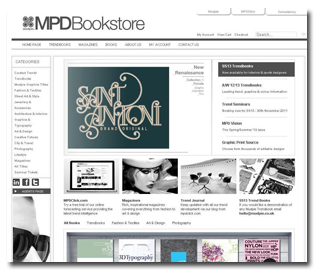 Mudpie's updated online bookstore
Black Mountain, N.C.-based
Parameter Generation & Control has updated its website, located at
humiditycontrol.com.
Aurora, Ill.-based
Aurora Specialty Textiles Group Inc. has added AC Canvas Glossy to its Northern
Lights™ printable textiles collection.
Owosso, Mich.-based
Tri-Mer Corp. has released a brochure detailing Tri-Flow, a new Minimum Efficiency
Reporting Value (MERV) 16 filter that offers High-Efficiency Particulate Air (HEPA)-like results
for submicron particles and fumes.
Epicor Software Corp., Livermore, Calif., has published a white paper titled "10
Critical Concerns Manufacturers Should Have When Sourcing a Cloud-based ERP Solution," available
for download at
http://offeroffice.com/bo/FBDB7/4983/29920/33979.


Aria Systems Inc., New York City, has launched its new website, located at
ariasystems.biz; and has released a new version of the
"Object Linking" program.
Eriez Equipos Magneticos S.A., Mexico, is celebrating its 40th anniversary as an
affiliate of Erie, Pa.-based Eriez Manufacturing Co.
Cincinnati-based
Cintas Corp. has released its 2011 Fall Fashion Trends Forecast, available at
cintas.com/shop.
Shirley, Mass.-based
Bemis Associates Inc. has received bluesign® certification for its Sewfree®
adhesive films and seam sealing tapes.
Paris-based
Flammarion S.A. has published "The Book of Fine Linen," by Françoise de Bonneville
with a forward by Marc Porthault. The book is distributed by Rizzoli International Publications
through Random House.