Gastonia, N.C.-based
RadiciSpandex Corp.'s Tuscaloosa, Ala., manufacturing facility has been awarded a
certificate of achievement for No Lost Time Injuries in 2011 by the Alabama Department of
Industrial Relations.



Huntsman Textile Effects, Singapore, has been named a member of the Founding Circle
of the Sustainable Apparel Coalition.
Madeira USA, Laconia, N.H., now offers UPS Express Critical™ shipping on Saturday
and Sunday for its embroidery supplies. The company also has added a Trendspotting page to its
website,
madeiramart.com.
Charleston, S.C.-based
Sawgrass Technologies Inc.'s Consumer Division now offers a technical support
section on its website,
sawgrassink.com.
Cuyahoga Falls, Ohio-based
Americhem Inc. now offers technical support services from its facility in Germany
for its European customers.
NGC Software, Miami, has been named to SupplyChainBrain's 2011 100 Great Supply
Chain Partners list.
Aurora Specialty Textiles Group Inc., Aurora, Ill., has added profiles to its
website for the Northern Lights Printable Textiles collection.



C.A. Litzler Co. Inc., Cleveland, has been elected to the American Fiber
Manufacturers Association's High Performance Fiber Council.
Teijin Fibers Ltd., Tokyo, has received Frost & Sullivan's 2011 Global
Automotive Carbon Composites Technology Award for its carbon fiber reinforced plastic (CFRP) mass
production technologies.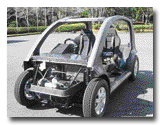 Teijin's electronic vehicle concept car features a CFRP body structure.


PVH Corp., New York City, has received Oeko-Tex® Standard 100 certification for its
men's dress shirt lines.



Kumaraguru College of Technology, India, and
Texas Tech University, Lubbock, Texas, have extended until Oct. 15, 2011, the
deadline for submission of papers for presentation at the 7th International Conference on Advances
in Textiles, Machinery, Nonwoven and Technical Textiles-ATNT 2011, to be held Dec. 15-17, 2011, in
Coimbatore, India. For more information, visit
atnt2011.com.
DyStar, Singapore, has released its first carbon footprint report.
The
Professional Awning Manufacturers Association, Roseville, Minn., now offers a
video, titled "Six Tips to Protect Your Pet from Sun & Heat," featuring safety tips for pets
exposed to sun and heat. The video is available at
awninginfo.com.



Unicraft Corp., Miami, has relocated to 18957 NE 3rd Court, Miami, 33179;
+305-770-1300; fax +305-770-1344. Toll-free number and email address will remain the same.



Consolidated Laundry Machinery, Ponoma, Calif., now offers onsite dryer upgrading
and refurbishing services to its customers.



LTM Textile Resources LLC, Huntington Beach, Calif., has introduced the Heavy
Traffic collection of home decorator fabrics for high traffic environments.

The Genesis line in LTM's Heavy Traffic collection
Shelton, Conn.-based
GrayWolf Sensing Solutions has released two print brochures detailing its airspeed
probes and pitot static tubes. High-resolution PDFs may be downloaded from
wolfsense.com.
The
Specialty Graphic Imaging Association (SGIA), Fairfax, Va., offers a Retail
Resources page on its website, located at
sgia.org/retail/index.cfm.
Zepol Corp., Minneapolis, has released its first U.S. Import Compliance Guidebook.
The report may be downloaded from
zepol.com.
The Research Triangle Park, N.C.-based
American Association of Textile Chemists and Colorists (AATCC) Committees RA57,
Floor Covering Test Methods and RA63, Water Resistance, Absorbency, and Wetting Agent Evaluation
Test Methods have developed four test methods: AATCC Test Method 196-2011, Colorfastness to Sodium
Hypochlorite of a Textile Floor Covering; AATCC Test Method 197-2011, Vertical Wicking of Textiles;
AATCC Test Method 198-2011, Horizontal Wicking of Textiles; and AATCC Test Method 199-2011, Drying
Time of Textiles: Moisture Analyzer Method. In addition, AATCC Test Method 134-201, Electrostatic
Propensity of Carpets and the AATCC monograph titled "Standardization of Home Laundry Test
Conditions" have been revised.



International Newsletters Ltd., United Kingdom, has published "World Markets for
Technical Textiles to 2017," a report by the European Man-Made Fibres Association (CIRFS).
September/October 2011