Camira Fabrics Ltd.
, United Kingdom, has introduced a line of sustainable fabrics
under the Second Nature™ label, including fabrics made from 100-percent wool, climate-neutral wool
and bast fibers.
London-based
Intertek Group Plc has launched the Textile Compliance Guide EU for iPad™
application, which may be downloaded free of charge at
http://bekm.intertek.com/mobile.
The International Working Group on Global Organic Textile Standard (GOTS-IWG),
Germany, has released Version 3.0 of its organic fiber processing standard. Companies wishing to be
GOTS-certified must fully comply with Version 3.0 by March 1, 2012. Information may be obtained at
www.global-standard.org.
The Wisconsin Entrepreneurs' Network has selected
Aurizon Ultrasonics LLC, Kimberly, Wis., to participate in the Innovation 25 Pilot
Program, making it eligible to receive assistance in securing federal grants through the Small
Business Innovation Research program.
The Fairfax, Va.-based
Specialty Graphic Imaging Association (SGIA) has added to its website a Retail
Resources page — located at
www.sgia.org/retail/index.cfm. SGIA also has
launched an online Live Support service as part of its ASSIST member benefit program. Information
is available at
www.sgia.org, keyword ASSIST.
Ireland-based
Research and Markets Ltd. has published the 2011 U.S. Textile & Fabric
Finishing Mills Industry Report and the Sustainable Textiles Handbook.
United Kingdom-based
Textiles Intelligence Ltd. has released a report titled Trade and trade policy:
clothing imports, retail demand and trends in five key emerging markets.
Supercritical Fluid Technologies Inc. (SFT), Newark, Del., has debuted the
SFT-110XW Supercritical Fluid Extraction (SFE) processing system for performing extractions in
supercritical fluids and other materials. The 110XW SFE is suitable for research and process
development applications.
Wichita, Kan.-based
Invista's fiber processing plant in Monterrey, Mexico, has received Safe Company
Recognition from La Secretaria del Trabajo y Previsión Social. The recognition places Invista in
the "Re-validation Level 3 – Effective Management" category, the highest level issued by the
Mexican Labor Authority.
China-based Winner Medical Group Inc.'s wholly owned subsidiary,
Winner Industries (Shenzhen) Co. Ltd., has won a 2010 Circular Economy Project
Award for its patented 100-percent cotton spunlace nonwoven technology, which is used to produce
PurCotton® products.
Chicago-based
Cintas Corp. has won a 2011 UNIVATOR Award in the "Eco-Friendly Innovation"
category for its EcoGeneration by Cintas™ scrub collection. The company also has issued its 2011
Spring Fashion Trends Forecast for Hotels; and now offers 8 Commandments of Garment Care, a video
with quick tips and general best practices to help hoteliers extend the life of their apparel
programs.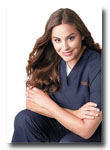 Cintas Corp. recently won an award for its EcoGeneration by Cintas™ Scrubs
Montreal-based
Visual 2000 International Inc. has opened a European headquarters in Manchester,
England; and a satellite office in Shanghai focusing on software development and quality control.
New York City-based
CIT Trade Finance has released 2011 U.S. Factoring Overview as part of its
Executive Spotlight series. Written by Chief Sales Officer Jonathan Lucas, the publication offers
an overview of the U.S. factoring market and the role it plays in providing liquidity to small- and
mid-sized businesses.
Laconia, N.H.-based
Madeira USA has launched updated versions of its three websites:
www.madeirausa.com,
www.madeiramart.com and
www.ezeebacking.com. The company also has introduced
Madeira Mart Mobile, a mobile ecommerce web application that enables embroidery supplies to be
ordered via most smart phones.
Effective May 1, Los Angeles-based
Consolidated Laundry Machinery will relocate its headquarters to 211 Erie St.,
Ponoma, Calif., 91768-3378. Phone and fax numbers will remain the same.
Dalton, Ga.-based
Shaw Industries Group Inc.'s Shaw Living division has debuted the Bob Timberlake
Area Rug Collection, inspired by realist painter and designer Bob Timberlake and featuring
machine-woven products made with Shaw's EverTouch® nylon.
Berwyn, Pa.-based
Styron LLC will change its name to Trinseo effective late 2011.
Rolling Meadows, Ill.-based
Spartanics now offers translations of the 2011 edition of Spartanics Laser Die
Cutting Technical Guide in English, Chinese, French, Spanish and German. The translations may be
obtained by emailing
LaserCuttingGuide@spartanics.com.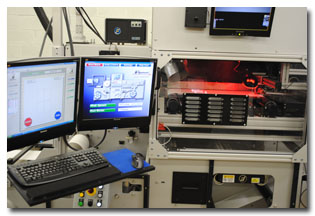 Spartanics manufactures laser die cutting machines and die cutting systems
Israel-based
OptiTex Ltd. has released Version 11 of its OptiTex signature software, which
includes improved 2D tools in Slash and Spread functionality, Walking capabilities, Variation
Grading, 3D algorithm and graphical user interface, a new network protection system, improvement in
its 3D capabilities, a new measurement chart, the ability to plot marker files from an OptiTex
Viewer option, and a choice of 25 languages.
New York City-based
Material ConneXion will open a facility in Istanbul, Turkey, in June 2011.
Material ConneXion Istanbul will offer the same global materials consultancy services as the
company's other locations.