Australia-based
Australian Wool Innovation Ltd.'s WoolNet – a netted base layer garment made of
Merino wool – has won the Scandinavian Outdoor Award for Summer 2010.
Atlas Material Testing Technology GmbH, Germany, has launched a website dedicated
to its lightfastness testing solutions. The website is located at
www.textiles.atlas-mts.com.
Celanese Emersion Polymers, Dallas, has signed a distribution agreement with
Belgium-based Univar in which Univar will distribute Celanese Emulsion products in the Baltic
region.



Hyde Industrial Blade Solutions, Southbridge, Mass., now offers the Industrial Hand
Knives and Blades catalog, a 12-page reference guide detailing Hyde's extensive range of blades.
The brochure is available at
www.hydeblades.com/literature/pdf/hand-knives-catalog.pdf.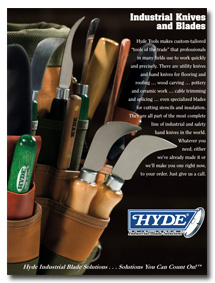 Hyde's Industrial Hand Knives and Blades catalog


The
American National Standards Institute (ANSI), Grand Rapids, Mich., has approved
the 2010 edition of ANSI/BIFMA X5.6 Panel Systems – Tests standard. Copies of the new edition may
be ordered from The Business and Institutional Furniture Manufacturer's Association (BIFMA)
International, Grand Rapids, Mich., at
https://bifma.org/secure/orderform.html.
Germany-based
Deutsche Messe is accepting applications for the 2011 Carpet Design Awards, which
will be presented at the Domotex Hannover 2011 trade fair for the flooring sector, to be held Jan.
15-18, 2011. This year, the competition also is open to manufacturers not exhibiting at the event.
Application forms are available at
www.domotex.de/cda_e. Deadline for submissions is
November 5.
Manchester, Tenn.-based
Ravago Manufacturing Americas LLC's Enviramid™ post-consumer nylon compounding
feedstocks have been certified by UL Environment Inc., Northbrook, Ill., to meet all criteria as a
100-percent post-consumer nylon product.
The Association of the Nonwoven Fabrics Industry (INDA), Cary, N.C., has released
the "Stretchable Nonwovens Report" prepared by Smith, Johnson & Associates, Draper, Utah. The
report examines the top five enabling technologies related to stretchable nonwovens, as well as
business opportunities.
ASTM International, West Conshohocken, Pa., has released its latest ASTM
International Standards Catalog. Customers may browse and order directly from the interactive
catalog at
www.astm.org.
London-based
Worth Global Style Network (WGSN) has launched WGSN Fontis, a multi-channel
digital platform utilizing cloud computing technology that has restructured WGSN's 600,000 pages of
content to facilitate searches by users.
London-based
Intertek Group Plc has launched two iPhone® mobile digital device applications,
the Textile Compliance Guide EU and US Consumer Product Safety Improvement Act. The application may
be downloaded at no cost at the online Apple® application store.
Bozeman, Mont.-based
TEXbase Inc. has redesigned its website, located at www.texbase.com, and has
launched a blog at
www.texbase.com/blog/. The company also has added lab
data management for both Trim and Product to Texbase Quality, its laboratory information management
system for textile professionals; and has expanded Texbase Connect, its collaborative software
solution for suppliers, to collect trim and product test data and has added related widgets to the
dashboards.
Germany-based
Pikeur Reitmoden has won the Spoga Horse Innovation Award 2010 for its riding
pants featuring the Barrier by HeiQ water- and stain-repellent textile treatment by
HeiQ Materials AG, Switzerland.
New York City-based
Texstyle/Jamie Stern has launched a custom rug collection featuring designs
derived from paintings by artist Mikel Patrik. The collection includes three designs — Stitch,
Strata and Pixel — taken from Patrik's paintings, and is available in three colorways.



Fabric Innovations has relocated its headquarters to at 2665 South Bayshore Dr.,
Ste. 712, Miami, Fla., 33133; +305-860-5757.
Nikke – The Japan Wool Textile Co. Ltd., Japan, has received Australian Wool
Innovation Ltd.'s inaugural Special Woolmark Award 2010. The award was presented at the recent
Première Vision in Paris.



Easiway Systems Inc., Delano, Minn., has launched a new website, located at
www.easiway.com, to provide tools, support, distributor information and e-commerce.
Summer Rayne Oakes, an eco-model and authority on sustainable design practices in
the fashion and textile industry, has launched Source4Style, a business-to-business online
marketplace that allows designers to search, compare and purchase sustainable materials from more
than 25 suppliers in 12 countries. The site also helps sustainable suppliers promote their brands
through targeted marketing packages.
New York City-based
Jones Apparel Group has been renamed The Jones Group Inc.



Pantone LLC, Carlstadt, N.J., has released the Spring/Summer 2012 edition of the
Pantone® View Colour Planner, its multi-discipline color forecaster.
Mt. Holly, N.C.-based
American & Efird Inc.'s sewing threads, embroidery yarns and technical
textiels have received Oeko-Tex® Standard 100 certification.
United Kingdom-based
LGC Standards has collaborated with the European Commission's Joint Research
Centre – Institute for Health and Consumer Protection (IHCP) to launch a range of reference
nanomaterials to aid research and testing into the applications and impacts of nanotechnology.
Iselin, N.J.-based
Maidenform Brands Inc. has granted Toronto-based Coconut Grove Intimates an
exclusive worldwide license to manufacture, market, sell and distribute bra accessories under the
Maidenform®, Self Expressions®, Sweet Nothings®, Inspirations®, Luleh® and Bodymates® brands.
The
American Apparel and Footwear Association (AAFA), Arlington, Va., has published
the seventh edition of the AAFA Restricted Substances List covering apparel, footwear and home
textiles. The list may be downloaded free of charge at
www.apparelandfootwear.org.
Israel-based
Kornit Digital Ltd. has debuted the DecoNetwork Solo Plus program for Kornit
customers. The program enables Kornit users to integrate a complete online direct-to-garment shop
into their business so they are able to accept custom orders at any time and perform a fast and
easy production process for customized and personalized artwork applications.
England-based
Mudpie Ltd. has released its latest Trendbooks for the Spring/Summer 2012 season.
The six books are available in hard copy and as ebooks via
www.mpdclick.com.
The Brussels-based
International Wool Textile Organisation (IWTO) has released the 2010 edition of
"IWTO Market Information," containing relevant data on the international wool and textile industry,
including new information and statistics, and expanded information about animal fibers.