The Romo Group
, England, has redesigned its upholstery fabric brand formerly known
as Kirkby House into Kirkby Design, a modern, high-performance fabric resource library targeted to
both residential and contract applications.
Greenville, S.C.-based
Safety Components' WeatherMax FR fabric for awnings, tents and other outdoor
applications is now available in 10 colors. The solution-dyed fabric is ultraviolet-, water-, and
fire-resistant, and features SaturaMax yarns offering dimensional stability and a breathable
HydroMax finish offering mold and mildew prevention.
Potomac, Md.-based
Lavanta Textiles has launched a new website, located at
www.lavantatextiles.com, which presents its Turkish
textile products for the U.S. hospitality market.
Jackson, N.J.-based
Newson Gale Inc. has redesigned its Bond-Rite™ clamp, a static-electricity
eliminator suitable for use with mobile or portable plant equipment. It includes a redesigned
electric module to improve battery/working life, and an in-line Quick-Connect feature that
facilitates quick and easy field replacement of the clamp and/or retractable cables in case they
are damaged in service.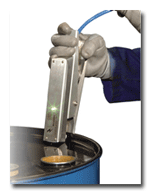 Newson Gale Inc.'s redesigned Bond-Rite™ clamp
Van Nuys, Calif.-based
Cherokee Inc. has signed an exclusive license agreement in the United States with
San Fernando, Calif.-based
JEM Sportswear to manufacture junior knit tops for JEM's Sideout brand.
Owings Mills, Md.-based
Lion Brothers Co. Inc. has received Oeko-Tex® Standard 100 certification.
Switzerland-based
bluesign technologies AG has certified Wakefield, Mass.-based
Agion Technologies Inc. for its Agion Active™ dual action odor-elimination textile
finish.
The Hohenstein Institute, Germany, has released a publication that charts clothing
development from the first primitive clothing to modern functional textiles and describes the
milestones in clothing physiology research over recent decades. The publication is available free
of charge on its website, located at
www.hohenstein.de.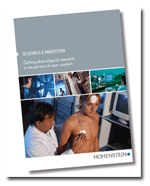 The Hohenstein Institute's publication on clothing physiology research
Grand Rapids, Mich.-based
X-Rite Inc. has received the top innovation award from the
China Fashion Color Association for its ColorMunki™ Design, an instrument/software
package that offers color control and color creation tools for digital workflows.
England-based
Mudpie Ltd. now offers the following trend books: Baby Graphics — The Best of
Cutiepie; Mudpie Badges — The Best of Mudpie Badges; Print & Pattern Trends for autumn/winter
2011-12; and MPD Active.
Mountain View, Calif.-based
Damco has integrated Madison, N.J.-based
Savi Networks' SaviTrak™ wireless tracking technology into its logistics service
offerings to provide real-time, automated information on location and status of customer shipments.
Minneapolis-based
Turck Inc. has introduced the D-Size 1-3/8 inch powerfast™ modular wiring system
for handling high-current applications for machine power distribution and motor control. The
complete power distribution system includes 3- and 4-pin corsets, receptacles and tees that supply
up to 600 Volts and 30 Amps.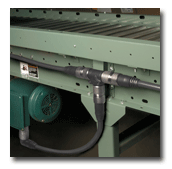 Turck Inc.'s D-Size 1-3/8 inch powerfast™ modular wiring system
Cincinnati-based
Advantech Corp.'s Industrial Automation Group now offers the PCI-1220U two-axis
motion control card for stepping and pulse-type servo motors with hardware-controlled linear and
circular axis interpolation.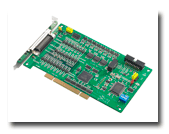 Advantech Corp.'s PCI-1220U
Switzerland-based
Baumer Group has introduced the IFRH series of two-part proximity inductive high
temperature sensors designed for sensing applications, including detection of metals, in
temperatures ranging from -25˚C to +180˚C. The IP67-rated sensors are available in M8, M12 and M18
designs with chromium nickel steel housings.
The
International Trade Centre, Switzerland, now offers an online version of its
Cotton Exporter's Guide in English, French and Spanish. The guide offers a comprehensive view of
the entire cotton value chain from a market perspective.
NDC Infrared Engineering, Irwindale, Calif., has unveiled the NW710 infrared
sensor, a non-nuclear sensor that can simultaneously measure both basis weight and residual
moisture of polypropylene spunbond and spunbond/meltblown/spunbond (SMS) nonwoven fabrics. The
sensor can measure a variety of basis weights from 8 grams per square meter (gsm) spunbond to 90
gsm SMS.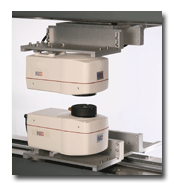 NDC Infrared Engineering's NW710 infrared sensor
Natick, Mass.-based
Cognex Corp. has debuted the 3D-Locate™ library of 3-D vision software tools that
enables automation equipment to work with a wider range of parts including stacked or tilted items.
The company also has introduced In-Sight® 4.4 software for its In-Sight vision systems. In-Sight
4.4 includes new color tools, improved calibration and expanded data access within its EasyBuilder®
configuration software; and the InspectEdge™ collection of tools that detect edge defects and
inspect edge pairs.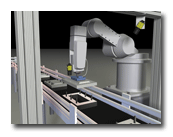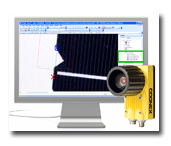 Cognex Corp.'s 3-D Locate™ software (left) and In-Sight® 4.4 software
East Providence, R.I.-based
CleanBrands LLC has launched CleanRest® barrier window treatments, intended to
control the natural buildup of household allergens.
Beresford, S.D.-based
Sioux Corp.'s 100-percent electric E-Series line of pressure washer and steam
cleaners has earned Mark certification, signifying that the products meet European Union consumer
safety, health and environmental requirements.
Duquesne, Pa.-based
American Textile Co. has received
Graphic Design USA's 2010 American Package Design Award in the Home Goods category
for its Rest Right™ pillow protectors; and
The Public Relations Society of America, Pittsburgh chapter's 2010 Renaissance
Award in the Business to Consumer category for its Aller-Ease® "Flip for Fall" media relations
campaign.
England-based
SDL Atlas Ltd. has redesigned its website — located at
www.sdlatlas.com — presenting its textile testing equipment,
laboratory products, consumables, and service offerings for the fabric, apparel, yarn and fiber
industries.
Sweden-based
Atlas Copco AG has been listed on The Global 100 list of the world's most
sustainable corporations for the fifth consecutive year.
Erie, Pa.-based
Eriez 5-Star Service now provides downloadable parts lists for its core products
online at
http://service.eriez.com.
The
Association of the Nonwoven Fabrics Industry, Cary, N.C., and Brussels-based
EDANA, the International Association Serving the Nonwovens and Related Industries,
have released the 2010 edition of Harmonized Test Methods: Nonwovens & Related Industries.
The Germany-based
Textile Research Board has released Textile (R)Evolution, a brochure that covers
33 textile innovations that have impacted industry and social history. The brochure can be ordered
or downloaded free of charge at
www.textilforschung.de.
Florham Park, N.J.-based
BASF Corp. has increased prices for Styrofan® carboxylated syrene-butadiene
polymers sold to the carpet industry in the United States and Canada by 8 cents per dry pound.
Columbus, Ohio-based
Hexion Specialty Chemicals Inc.'s North American Dispersions business has raised
prices by 5 cents per wet pound in the United States and Canada for all acrylic, styrene acrylic,
vinyl acrylic and other polymers used in the adhesives, textiles, nonwovens and construction
markets.
Effective March 1, Fairlawn, Ohio-based
Omnova Solutions Inc. will raise prices by 5 cents per dry pound on styrene
butadiene latex for carpet and related markets.
February 16, 2010