Richmond, Va.-based
Performance Fibers has redesigned its website, located at
www.performancefibers.com.
The Italy-based
Lazzari Cultural Association has launched the third edition of the Textile Design
Contest, open to fashion and interior designers ages 18 to 35. The deadline for applications is
June 15. For more information, contact +39-0422 598564 or
associazioneculturale@lazzariweb.it.
Research and Markets Ltd., Ireland, has released the following publications:
"Recycling in Textiles," the "Smart and Interactive Textiles Report," and "Trends in World Textile
and Clothing Trade."
Laser Research Optics, Providence, R.I., has updated its website, located at
www.laserresearchoptics.net. The site features a
wide range of carbon dioxide (CO2) laser optics for original equipment manufacturers and industrial
and medical laser systems users.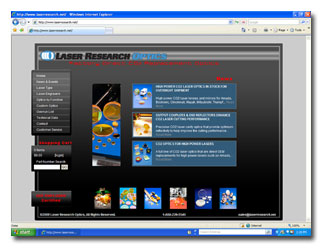 Laser Research Optics' website's new offering of CO2 laser optics
Anovotek LLC, Greenville, has launched its new website, located at
www.anovotek.com.
The
ABB Group has relocated its North American headquarters to 12040 Regency Pkwy,
Suite 200, Cary, N.C., 27518, (203) 750-2200; fax (203) 750-2263.
Israel-based
OptiTex Ltd. now offers expanded online access to features of its computer-aided
design and manufacturing solutions. For more information, visit
www.optitex.com.
The
American Apparel & Footwear Association (AAFA), Arlington, Va., has released
the fourth edition of the global AAFA Restricted Substances List covering home textiles, apparel
and footwear. The list is available free of charge at AAFA's website, located at
www.apparelandfootwear.org.
Supercritical Fluid Technologies Inc. (SFT), Newark, Del., has introduced the
SFT-250 Supercritical Fluid Extractor (SFE) for performing extractions in supercritical fluid or
for small-scale pilot processing.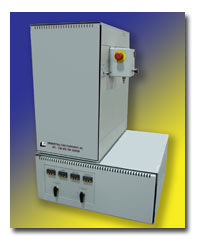 The SFT-250 SFE System

Pinpoint Laser Systems Inc., Peabody, Mass., has released the Microgage Roll
Alignment kit for use in paper and textile mills; converting, coating, and plastic bag lines;
printing presses; and other roller and web-related applications.
ASTM International, West Conshohocken, Pa., now offers the sixth edition of
"ASTM Standards on Precision and Bias for Various Applications." To order the online-only
publication, contact (610) 832-9585 or
service@astm.org.
Cognex Corp., Natick, Mass., has released VisionPro™ 5.2 software, featuring
SearchMax™ and Color Extractor™ color tools; a simpler version of PatMax® technology; and muticore
support for PatMax PatInspect™ and image filtering tools.
The
Association of the Nonwoven Fabrics Industry (INDA), Cary, N.C., has published a
special online issue of the Journal of Engineered Fibers and Fabrics that focuses on nonwovens and
engineered fabrics modeling. The journal can be accessed free of charge at
www.jeffjournal.org.
Alexandria, Va.-based
Color Marketing Group will offer its annual Color Direction® forecast in a digital
format using Grand Rapids, Mich.-based X-Rite Inc.'s ColorMunki Design spectrophotometer.
April 21, 2009