Process Control Corp.
, Atlanta, has added an 18-kilogram Guardian blender to its line of gravimetric batch
blenders.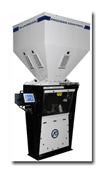 Process Control Corp.'s new gravimetric blender
Greensboro, N.C.-based

Unifi Inc.
's Repreve® family of recycled polyester yarns has been certified by Emeryville,
Calif.-based Scientific Certification Systems (SCS) as having 100-percent recycled content.

Outlast Technologies Inc.
, Boulder, Colo., has formed a partnership with

MatMarket
, Portsmouth, N.H., whereby MatMarket will provide sales representation for Outlast and
its phase-change materials technologies in the footwear industry.

Safety Components Fabric Technologies Inc.
, Greenville, has made its WeatherMax 80 fabric available in six new colors including
cobalt, graphite, sand, scarlet, silver and taupe.

TenCate Geosynthetics North America
, Pendergrass, Ga., has launched a website at www.mirafi.com.
The

Instrumentation, Systems and Automation Society (ISA)
, Research Triangle Park, N.C., has published "Alarm Management: Seven Effective Methods
for Optimum Performance." ISA also offers an accompanying Web seminar, "Highly Effective Alarm
Management: The Seven Steps." Both are available at www.isa.org.

Spectrex Inc.
, Cedar Grove, N.J., has released SharpEye 20/20SI, an upgraded version of its triple
infrared flame detector. Features include a sealed electronic and sensor section that provides
protection during installation, modbus protocol; manufacture of PCBs using surface-mounted
technologies; and reduced power requirements; among others.
The Sensors Division of Cary, N.C.-based

MTS Systems Corp.
has added the Temposonics® model to its line of R-Series linear position sensors. The new
model features flexible housing designed for short installation envelopes with long-stroke sensors.

Regal Components Inc.
, Clearwater, Fla., now offers custom-designed pins and punches made from different
grades of tool steels, stainless steel and copper alloys according to customer requirements.

Anver Corp.
, Hudson, Mass., now offers packaged vacuum suction cup and suspension assemblies that
enable users to design their own custom lifters and jigs using standard components.
The

International Textile Manufacturers Federation
has relocated to Wiedingstrasse 9, CH-8055 Zurich, Switzerland. Its phone and fax
numbers, and e-mail address remain the same.

ChemSW Inc.
, Fairfield, Calif., has published an updated and expanded version of its white paper
entitled "Best Practices for Managing Laboratory Chemical Inventory." The paper is available free
of charge at
www.chemsw.com/revbestpractices.html.
Houston-based

Viscotek
has introduced the Automated Relative Viscometer System for measuring molecular weight
and relative, intrinsic, inherent, specific and absolute viscosity of dilute polymer
solutions.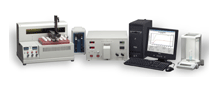 Viscotek's Automated Relative Viscometer System

Kaeser Compressors Inc.
, Fredericksburg, Va., has published a new desiccant dryer catalog, and has introduced an
Air Demand Analysis program.

Wasatch Computer Technology LLC
, Salt Lake City, now provides support for the Roland VersaCAMM VP line of wide-format
ink-jet printer/cutters. Wasatch SoftRIP™ and SoftRIP Roland Exclusive Edition now come equipped
with drivers for the 30-inch VP-300 and 54-inch VP-540 models.

Chemical Market Associates Inc.
, Houston, has released its 2008 World Terephthalates & Polyester Analysis. Available
as a book and on CD-ROM, the study provides an overview of terephthalates and polyester markets
from 2002 to 2012.

Best Manufacturing Co.
, Menlo, Ga., has released a hand/arm protection product catalog and reference guide.