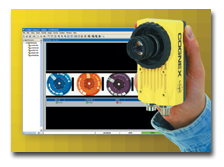 Cognex Corp.
, Natick, Mass., has added the In-Sight 5400C color vision
sensor and In-Sight 5401 high-resolution version to its 5000 Series of color vision sensors.
Effective December 1, Germany-based
Degussa AG's High Performance Polymers business unit has raised the price of
VESTAMELT® copolyamide hot-melt adhesives by 5 percent, and the price of Vestamelt copolyester
hot-melt adhesives by 3 percent.
The
Adhesive and Sealant Council (ASC), Bethesda, Md., has issued a call for papers
for the ASC Spring 2005 Convention and Exposition, to be held in Columbus, Ohio, April 17-20, 2005.
The deadline for abstract submissions is Jan. 28, 2005. For more information, contact
www.ascouncil.org.
The
Industrial Fabrics Association International (IFAI), Roseville, Minn., has
released its 2005 Marketing Guide, which includes information on specialty fabrics industry
marketing opportunities through IFAI, publications and activities, and membership information.
Atofina Chemicals Inc., Paris, has changed its name to Arkema Inc. Its new website
address is
www.arkemagroup.com.
Chicago-based
A.W.T. World Trade Inc. has redesigned its website,
www.awt-gpi.com, to offer visitors a more user-friendly layout
that includes enhanced product content, optimized graphics, downloadable product literature,
on-line ordering forms and sales contact information.
Effective November 15,
DAK Fibers LLC, Charlotte, has increased by 5 cents per pound the price of its
staple fiber products sold to apparel, fiberfill, home furnishings and industrial markets.
Raleigh, N.C.-based
Textile Processing Research Inc. recently celebrated its 40th anniversary.
Precision AirConvey (PAC), Newark, Del., has released a full-color brochure
detailing PAC's line of advanced air separators, including cyclones, slant screen separators and
Spirators™, available on its automated trim- and waste-handling systems.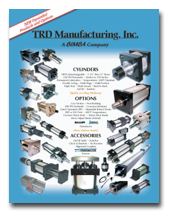 TRD Manufacturing Inc., a subsidiary of Bimba Manufacturing Co., Monee,
Ill., has made available its new TRD1-0104 Standard Product Catalog, which introduces the
Tough-Duty (TD) line of products.
Effective November 1,
Air Products Polymers LP, Allentown, Pa., has announced a price increase of up to
20 percent in the United States and Canada for its acrylic-based polymers sold into the adhesives,
building products, nonwovens, paper, carpet and textiles markets; and sold under the Flexbond®,
Airbond®, Valbond®, Valtac® and Flexcryl® brands.
Universal Fiber Systems LLC, Bristol, Va., has launched a new website,
www.universalfibers.com, which enables visitors to
learn more about the company's capabilities, download color representations and request samples.
Sanitized AG, Switzerland, has redesigned its website. Visitors now may access
www.sanitized.com in English, and take advantage of special
services offered in the News Center.
Effective November 1,
Solutia Inc., St. Louis, has increased the price of its Dequest phosphonates.
Strayfield Fastran has relocated to: Ely Rd., Theale, Berkshire, England RG7 4BQ;
44 118 932 3823; fax 44 118 932 3103.
Effective November 1, Bridgewater, N.J.-based
National Starch & Chemical's Vinamul Polymers business unit has increased in
the United States the price of its ethylene vinyl acetate copolymer and vinyl acetate homopolymer
emulsions by 3 cents per wet pound.
John R. Starr Inc., Naples, Fla., in cooperation with
Engqvist Consulting, Switzerland, has published The Adult Incontinence Market
Opportunity — North American and Western European Outlook 2003 to 2008. The report profiles the
product and market positions of hygiene absorbent products, drugs and medical devices for
incontinence.
BSN Medical GmbH & Co. KG has relocated to: Quickbornstr. 24, Room 5455/Brf.
136, 20253 Hamburg, Germany; 49 40 4909 3316; fax 49 40 4909 3020.
December 2004