The new Type 78 pressure regulator from

Marsh Bellofram
, Newell, W.Va., controls output pressure over a range of flow and supply pressure
variations. Output and supply ports are available in 0.375-inch, 0.5-inch, 0.75-inch and 1-inch
NPT; and output gauge ports are 0.25-inch NPT. Optional versions are available.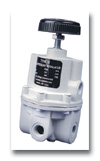 Marsh Bellofram's Type 78 pressure regulator


The Screenprinting & Graphic Imaging Association International
, Fairfax, Va., has announced that it will change its name to the Specialty Graphic
Imaging Association.

Unifi Inc.
, Greensboro, N.C., has established websites to provide global sourcing and networking
resources related to the following trade agreements: the Caribbean Basin Initiative —
www.cbisourcing. com; the Africa Growth and Opportunity Act — www.agoasourcing.com; and the Andean
Trade Pact — www.atpasourcing.com. Each site, available in English and Spanish, can be accessed via
www.unifi-inc.com.

Eagle Performance Products
, Atlanta, has released a new brochure highlighting its line of coatings, polymers,
fluoropolymers, fire-retardant additives, textile finishes and thickeners, among other specialties.
The latest generation of Essex Junction, Vt.-based

Flex-A-Seal
's Integrated Cartridge Program offers lower-cost cartridge seals, allows quicker
deliveries, minimizes inventory needs, extends sealing efficiencies, boosts reliability and
increases bottom-line results, according to the company.

Spirax Sarco Inc.
, Blythewood, S.C., has launched www.spiraxsarco.com/us, an on-line resource for steam
system design and maintenance.
The first certified PROFInet products from the

PROFIBUS Trade Organization
, Scottsdale, Ariz., are the Hilscher PKV50 PROFInet Internet/Ethernet Gateway, Siemens
Simatic Net Industrial Ethernet/ PROFIBUS Link, and Siemens Simatic Net CP 343-1 PN PROFInet
communications processor.
"Stepping Up To ISO 9004:2000 — A practical guide for creating a world-class organization,"
by Russell T. Westcott, has been released by

Paton Press
, Chico, Calif.

The Modal Shop Inc.
, Cincinnati, highlights its application software, hardware and connectivity solutions
for dynamic sound and vibration measurement at www.processvibration.com.
Two new hands-on training classes for the Yaskawa F7 adjustable-frequency AC drive have been
added to other classes offered by

Yaskawa Electric America
, Waukegan, Ill. The F7 Level One class focuses on installation, wiring and commissioning
of the F7 drive; and the F7 Basic class emphasizes F7 features and functions.

ITT Industries Inc.
, White Plains, N.Y., has launched www.ittfluidbusiness.com, a new website dedicated to
its fluid businesses.

Bushman Equipment Inc.
, Butler, Wis., has released an updated brochure that features new pictures of its
coil-handling products.
Cleveland-based

Astrup Co.
recently introduced Architectural Fabric Structure Solutions, a resource kit that assists
architects in design planning and fabric selection. The kit includes fabric samples and charts,
color photos, and an Astrup fabric catalog on CD-ROM. In other company news, Astrup's website,
www.astrup.com/online, recently celebrated its one-year anniversary.
The "At A Glance" brochure from

Kaeser Compressors
, Fredericksburg, Va., presents Kaeser's line of compressors and compressed air
equipment.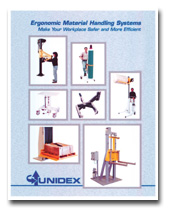 Unidex Inc.
, Warsaw, N.Y., has released an updated brochure that presents its standard and
engineered-to-order ergonomic material handling systems and equipment.
Fairfield, Conn.-based

RBC Bearings
' West Trenton, N.J., facility recently achieved ISO 9001:2000 certification.

Boston Gear
, Quincy, Mass., has introduced new interactive features to its redesigned website,
www.bostongear.com.

Crydom Corp.
, San Diego, has released a new solid-state relay and sensor catalog.


December 2003