The Kaeser Condensate Filter (KCF) from

Kaeser Compressors
, Fredericksburg, Va., uses a three-stage, self-contained plastic filter cartridge to
filter out contaminants, making wastewater safe for disposal. Kaeser also has released "Energy
Savings in Compressed Air Systems," an eight-page guide.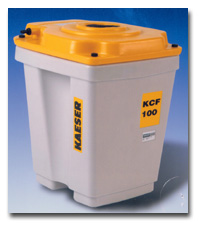 Kaeser Condensate Filter

Engineered Fibers Technology LLC
has relocated to: 25 Brook St., Shelton, Conn. 06484.
Charlotte-based

DAK Fibers LLC
has increased the price of all staple fiber products by 5 cents per pound.
Miami-based

Innovative Print Technologies
now publishes a Spanish edition of its monthly
Textile Times e-newsletter. The publication contains textile printing tips, business
assistance, an industry calendar and computer aids. To sign up for Textile Times, visit
www.innovativeprint.com.
Newark, Del.-based

Precision AirConvey's (PAC's)
new four-page brochure describes the TrimPAC™ Whisper high-speed trim removal system,
PAC's edge trim waste and scrap removal systems for converting lines, and its 100-percent
performance warranty.
The

American Association of Textile Chemists and Colorists (AATCC)
, Research Triangle Park, N.C., and

North Carolina State University'
s College of Textiles, Raleigh, N.C., have made available two CD training programs,
"Basics of Fibers" and "Basics of Dyeing." Regularly priced individual CDs are available. Combined
CD sets are available at a discounted rate.

Fasnap® Corp.
, Elkhart, Ind., recently released the third edition of its product catalog, which
includes information on the company's line of snap fasteners, grommets, washers, rivets and
ventilators, among other products.

Rollguard® Products
, Appleton, Wis., has updated its website, www.rollguard.com. Features include the
Spec-Your-Own form, which allows customers to submit roll cradle application details on-line; and
an information request section, among others.
August 2003