The recently released Tyco Medical Adhesives brochure from
Tyco Adhesives, Norwood, Mass., features specialty medical products — including
coated wovens and nonwovens, coated films and foams, transfer adhesives, and double- and
single-coated products — that use adhesives developed by Tyco.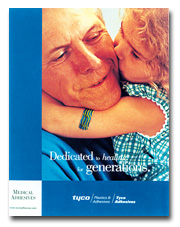 Tyco Adhesives' new brochure
The
British Textile Machinery Association has relocated to: Mount Pleasant, Glazebrook
Lane, Glazebrook, Warrington, Cheshire, WA3 5BN, England; 0161 775 5740; fax 0161 775 5485.



The
Screenprinting & Graphic Imaging Association (SGIA) International, Fairfax,
Va., is accepting entries for its annual Business Promotion Awards Competition, which recognizes
marketing, advertising and public relations efforts in the screen printing and graphic imaging
industry. Entries are due June 6. For more information, contact Bruce Joffe (703) 385-1335; fax
(703) 273-0456; bruce@pubpartners.com.
West Conshohocken, Pa.-based
ASTM International's Subcommittee D13.21 on Pile Floor Coverings seeks
stakeholders to participate in the finalization of a Standard Practice for Operation of a Roller
Chair Tester for Secondary Backed Pile Yarn Floor. For more information, contact David Wilkinson
(706) 277-8143; dwilkinson@dow.com. Also, Subcommittee E12.11 on Visual Methods seeks manufacturers
and consumers of high-gloss coatings and paints to participate in the development of a Standard
Practice for the Measurement of Distinctiveness of Image of High Gloss Surfaces with
Visual-Instrumental Devices. To participate, contact Andrew Rutkiewic (505) 281-7820;
rutkieaf@spinn.net.
Downers Grove, Ill.-based
Lovejoy Inc. has released a 400-page catalog, also available as a CD-ROM,
showcasing new shaft-to-shaft power transmission coupling products and accessories. Selection
procedures, dimensional outlines and product photos are included for each of the catalog's 11
categories.
Akron, Ohio-based
APV Engineered Coatings recently celebrated its 125th anniversary.
DuPont Packaging & Industrial Polymers, Wilmington, Del., has increased the
price of all grades of DuPont™ Elvanol® polyvinyl alcohol by 5 cents per pound for all US market
segments.
Smithfield, R.I.-based
Joraco Inc. now offers a CD-ROM catalog featuring its line of rotary indexing
machines, Toggle-Aire® pneumatic toggle presses and accessories for fabrication and assembly
tooling.
Charlotte-based
DAK Fibers LLC has increased the price of its staple fiber products by 6 cents per
pound.
Moeller FAZ Miniature Circuit Breakers from
Moeller Electric Corp., Franklin, Mass., can be used as alternatives to fuses in
industrial controls, machine tool panels and automation applications. The circuit breakers are IEC-
and UL-compliant, and are available in 0.5- to 63-Amp sizes with a uniform switching capacity of 10
kAmp.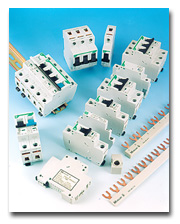 Moeller FAZ Miniature Circuit Breakers
Minneapolis-based
Donaldson Co. Inc.'s Downflo® Oval 1™ (DFO) series of cartridge dust collectors
received the Product of the Year Award from Filtration + Separation magazine at the Filtration 2002
conference.
"Labeling Systems & Solutions," a new eight-page, color brochure from
Weber Marking Systems Inc., Arlington Heights, Ill., details Weber's line of label
printer-applicators, pressure-sensitive label applicators, stand-alone printers, Legitronic®
Labeling Software, label manufacturing capabilities and custom systems.
Paper titles and abstracts are now being accepted for the England-based
Textile Institute's 83rd World Conference, to be held May 23-27, 2004, in
Shanghai. Submissions are due May 30. For more information, fax 86 21 62193061;
ti04shanghai@dhu.edu.cn.
"VESTAMELT®: Copolyamides and Copolyesters Hotmelt Adhesives," a new brochure series from
Degussa AG, Germany, covers products for melt print, powder scattering, powder
dot, paste dot and double dot applications.
April 2003