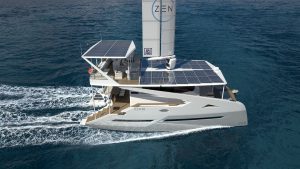 BARCELONA — November 20, 2023 — The ZEN50, designed and produced by ZEN Yachts, has been honored with the coveted Gussies 2023 award in the Electric Production Boat category for vessels over 8 meters (26 feet). MEL Composites is proud to announce its role in the production of the ZEN50 as the main composite material supplier and infusion technical advisor.
The ZEN50, a zero-emission solar and wind-powered blue water catamaran, represents a ground breaking leap in sustainable boating technology with advanced composites enabling the ability to sail continuously at cruising speeds of 6 to 10 knots, without requiring any fuel onboard.
MEL Composites is supplying the vinylester resins, carbon fibers and Corecell foam for the 50' (15.7m) catamaran, whilst the two teams, MEL & ZEN, work alongside to define the critical details for the build, including mechanical testing of sample laminates, and specifying the bespoke CNC cut core kits and process set-up for infusion. During the build, MEL technicians are on site at the shipyard, monitoring the infusion strategy and assisting the ZEN team throughout. Combining MEL Composites' in-house resin infusion expertise, customised raw materials' treatment and exceptional technical support, ensures the ZEN50's structure weight remains under strict control, ensuring the new yacht matches its performance and environmental targets.
The Gussies 2023 award is a testament to the innovative stride made by ZEN Yachts with the support from MEL Composites, confirming the leading position of these companies in the journey to create sustainable, high-performance watercraft.
"Winning the Gussies 2023 award in the Electric Production Boat category is a fantastic testament to the exceptional technology and engineering behind the ZEN50," said Julien Mélot, CEO of ZEN Yachts. "We are delighted to work with MEL Composites to achieve a high-quality build, helping to create environmentally friendly, zero-emission yachts for the future."
Posted: November 20, 2023
Source: MEL Composites