WESTLAKE, Ohio — November 13, 2023 — Q-Lab is honored to be awarded two National Top Workplace awards for employee appreciation and employee well-being. While Q-Lab has received Regional Top Workplace awards for the past 9 consecutive years (10 overall), this marks the first time Q-Lab has been recognized nationally for its positive workplace environment.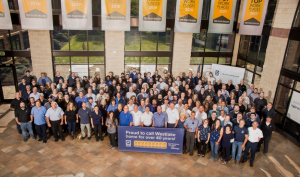 "Our mission at Q-Lab is to make testing simple for our customers. And that mission is enabled by our truly phenomenal culture and team of talented individuals," says Brad Reis, President & COO at Q-Lab. "Seeing our culture and team be given the national recognition they deserve is outstanding.  Our entire Leadership Team couldn't be any prouder."
Both the employee appreciation & employee well-being awards recognize companies for their dedication to providing a positive work environment for their employees.
Q-Lab was founded in 1956, and is a global leader in accelerated weathering and corrosion test equipment, outdoor and laboratory testing services, and standard test panels for the paint and coatings industry. Headquartered in Westlake, Ohio, with facilities located in Florida, Arizona, United Kingdom, Germany, and China, Q-Lab's success is driven and inspired by the passion and skill of its diverse global team.
Posted: November 14, 2023
Source: Q-Lab Corporation