SPARTANBURG, S.C. — November 7, 2023 — Diversified global manufacturer Milliken & Company was recognized as one of America's Best Employers for Veterans 2023, a list compiled by Forbes and Statista. Milliken, included on the list for the first time this year, is one of seven manufacturers recognized.
"Our veterans come to work each day demonstrating their commitment to our values and to our people," shares Halsey Cook, president and CEO of Milliken & Company. "We're proud of their contributions, and we're grateful for the skills they bring to the table as part of Team Milliken."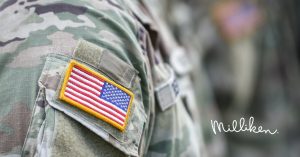 The cohort of America's Best Employers for Veterans 2023 all exemplify company cultures that are welcoming and supportive of veterans. Nearly 8,500 U.S. veterans, all of whom work at companies employing at least 1,000 people, were surveyed by Statista, and both their direct and indirect recommendations informed the rankings.
One of Milliken's six affinity networks—inclusive groups that associates can join to learn from, engage with and support other associates—focuses on veterans across service branches and nationalities. Milliken's Veterans Group provides camaraderie and service outlets, networking opportunities, and resources and development to its members. This group is one of many ways Milliken builds a workplace where everyone can bring their authentic selves to work each day.
"Milliken touches the lives of many veterans and service men and women—through product innovations and employment opportunities—and that made Milliken a natural fit for me," shares Brad Johnson, senior director of benefits and retirement and a U.S. Army veteran. "Working for a company with purpose and integrity like Milliken aligns with what I was hoping for in an employer."
The complete list of America's Best Employers for Veterans 2023 can be found here — https://www.forbes.com/lists/best-employers-for-veterans/?sh=28e19213606f.
For more information about career opportunities at Milliken, visit careers.milliken.com.
Posted: November 7, 2023
Source: Milliken & Company