PARIS — October 24, 2023 — The composites actors of the DACH region are currently gathered in Salzburg for two days of an intense business meetings event during which every opportunity is good to network but also get to know the latest trends and developments in the local composites ecosystem.  As part of this, two regional competitions: the AVK Innovation Awards and the JEC Composites Startup Booster. Discover here the awardees.
The AVK celebrating innovation
One aim of the AVK Innovation Awards is to support new products, components and applications made from fiber-reinforced plastics (FRP) and to promote new processes and methods for the manufacture of FRP products with a specific focus on sustainable solutions.
Nine companies and projects were welcomed on stage and awarded for breaking new grounds in the field of composites: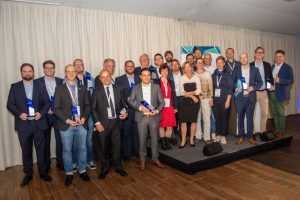 Products & Applications category
First place: "Insulating Coupling Shaft for Rail Vehicles" – Leichtbauzentrum Sachsen GmbH and partner KWD Kupplungswerk Dresden GmbH
Second place: "Electric Car Battery Housing Components Based on Innovative Continuous Fibre-Reinforced Phenolic Resin Composites" – SGL Carbon
Third place: "High Performance Recycled Carbon Fibre Materials (HiPeR)" – Composites Technology Center GmbH (CTC GmbH) and partners Faserinstitut Bremen e. V, Sächsisches Textilforschungsinstitut e.V., C.A.R. FiberTec GmbH; partners Japan: Faserinstitut Bremen e.V., Sächsisches Textilforschungsinstitut e.V., C.A.R. FiberTec GmbH; Partner Japan: CFRI Carbon Fiber Recycle Industry Co., Ltd., IHI Logistics and Machinery Corporation, ICC Kanazawa Institute of Technology
Innovative Processes & Methods category
First place: "Chopped Fibre Direct Processing (CFP)" – KraussMaffei Technologies GmbH and partner Wirthwein SE
Second place: "CIRC – Complete Inhouse Recycling of Thermoplastic Compounds" – Fraunhofer Institute for Production Engineering and Automation (IPA) and partners Schindler Handhabetechnik GmbH, Vision & Control GmbH
Third place: "CarboScreen – Sensor-Based Monitoring of Carbon-Fibre Production" – CarboScreen GmbH, and partner Institute of Textile Technology at RWTH Aachen University
Research & Science category
First place: "Development of a Stereocomplex PLA Blend on a Pilot Plant Scale" – Faserinstitut Bremen e. V.
Second place: "Fibre-Reinforced Salt as a Robust Lost Core Material" – Technical University of Munich, Chair of Carbon Composites and partners Apppex GmbH, Haas Metallguss GmbH
Third place: "VliesSMC – Recycled Carbon Fibres with a Second Life in the SMC Process" – Sächsisches Textilforschungsinstitut e.V. (STFI) and partner Fraunhofer Institute for Chemical Technology (ICT)
JEC Startup Booster shining a light on entrepreneurship
Technologies, business models, applications… Industrial startups continually develop cutting-edge innovations raising the interest of manufacturers who wish to take a part in the markets of tomorrow, helping the startups to grow in the meantime.
Five finalists pitched today in front of our jury of experts of the composites industry, granting them and their project a considerable visibility among professionals of the sector across Europe. After deliberation of the jury in a closed room, the name of the winner was revealed and officially announced at the Awards Ceremony:
CARBOCON – Germany
Leading service provider when it comes to carbon reinforced concrete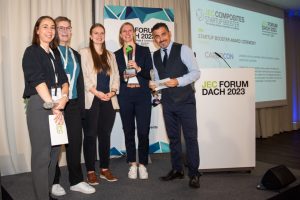 CARBOCON is an independent service provider in the field of the innovative building material carbon reinforced concrete. We operate in different areas of business, ranging from civil engineering services to introducing new products and processes to the market. In this way, we advocate progress and sustainability in the building industry.
Posted: October 24, 2023
Source: JEC Group