DHAKA, Bangladesh — October 22, 2023 — 7th BIGTEX – Bangladesh International Garment & Textile Machinery Expo, will begin on October 26 at the International Convention City Bashundhara in Dhaka.
Industry Minister, Nurul Majid Mahmud Humayun, MP is expected to inaugurate the exposition on October 26 at 12:00 p.m. which will continue until October 28.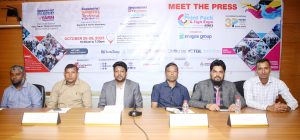 RedCarpet Global Limited, the organizer of the BIGTEX expo, disclosed details about the mega exhibition at a press conference on Sunday (October 22) at the Economic Reporters' Forum (ERF) auditorium in the city.
The organizers said targeting the entire Textile, Garment & Apparel industry, they are organizing five international exhibitions simultaneously at the same place — named Bangladesh International Fabric & Yarn Expo, Bangladesh International Printing, Packaging & Signage Expo and Bangladesh International Dyes, Pigments & Chemicals Expo and 3P Expo – Bangladesh International Paper, Printing & Packaging Expo.
These exhibitions will also play an important role by showcasing latest machineries, technologies, dyes/chemicals, yarns, fabrics available for Bangladesh on display with manufacturers/suppliers from the world available to our Industry at the doorstep. Also the expo will provide an opportunity to experts, engineers & technicians in the field of textile to have a practical knowledge of the recent technological advancements available, without going abroad.
Ahmed Imtiaz, CEO of Redcarpet Global, mentioned that the expo will have almost 160 stalls from 12 countries including Asia and Europe.
Bangladesh holds the position of 2nd largest apparel exporter in the world & forecasted a target of $100 billion export by 2030, it needs quality Garment & Textile Machinery, Equipments, Technology, Printing & Packaging Machinery, Signage, Yarn, Fabric, Trims, Accessories, Dyes, Pigments, Chemicals at best Price. This expo will help manufacturer & dealers to showcase their products, where Bangladesh garment & textile factory owners & apparel exporters can get in touch with them, he said.
Besides, the participants will be able to identify business contacts with prospect of entering into subsequent business negotiations, he said.
Bangladesh Garment Manufacturers & Exporters Association and Bangladesh Knitwear Manufacturers & Exporters Association are the associate partner of the exhibition and Image Group is the Powered by partner of the Printing expo. This expo is supported by Bangladesh Paper Mills Association, endorsed by Bangladesh Sign Materials and Machineries Importers Association (BSMMIA) & Bangladesh Digital Printers Owners Association (BDPOA).
A.K.M Ahamed Ullah, Secretary, Bangladesh Digital Printers Owners Association, Md Manik Dewan, Secretary, Bangladesh Sign Materials and Machineries Importers Association, Md. Abdus Salam, CEO, Images Ltd., Mohammad Ashraful Islam Riyadh, editor & publisher, Textile Focus also spoke about exhibitions in the press conference.
This Expo will be open for general & trade visitors from 10:30 am to 7:30pm every day.
Posted: October 22, 2023
Source: RedCarpet Global Limited