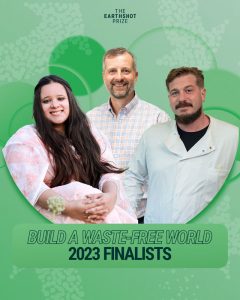 NEW YORK CITY — September 19, 2023 — Today, at an event in New York City, Prince William and The Earthshot Prize announced Circ® as one of the 15 Finalists for the 2023 Earthshot Prize, a prestigious global environmental award that celebrates and champions innovators focused on solving our most pressing global climate challenges.
Circ and the 14 other innovators honored as Earthshot Finalists represent six continents and were chosen from more than 1,100 nominees. Each of the Finalists will be in the running to receive one of five £1 million prizes awarded at the third-annual Earthshot Prize awards ceremony in Singapore later this year.
Circ's innovative recycling technology is addressing the fashion industry's carbon footprint – which accounts for 10 percent of global carbon emissions. The fashion industry diverts 92 million tonnes of textiles to incinerators or landfills each year, and less than one percent of textile waste is recycled into new clothing. Further, the production of new clothing is resource-intensive with cotton production using 3.3 million acres of land and six billion cubic meters of water annually, and polyester production requiring the use of 70 million barrels of oil each year.
Circ is the only platform to successfully separate polycotton blended textile waste and recover both cellulosic and synthetic fibers. The company's patented hydrothermal process turns polyester fibers in polycotton into a liquid, completely separating them from cotton fibres. Preserving and separating the polyester without damaging the cotton allows both materials to be reused in the production of new textiles, while also reducing carbon emissions substantially.
"At Circ, we've put our heart and soul into our technology because we see innovation as a crucial component to addressing key drivers of the climate crisis. So, to have our work recognized by The Earthshot Prize is deeply validating," said Peter Majeranowski, CEO of Circ. "With the support of the fellowship program, we look forward to the opportunity to further our impact and continue to support solution-oriented change within the fashion industry."
Founded by Prince William in 2020, The Earthshot Prize aims to discover and help scale the world's most innovative climate and environmental solutions to protect and restore our planet. The Prize is centered around five 'Earthshots,': simple but aspirational goals to ensure our communities, oceans and ecosystems can thrive together in harmony for generations to come: 1) Protect & Restore Nature; 2) Clean Our Air; 3) Revive Our Oceans; 4) Build A Waste-free World and 5) Fix Our Climate.
In addition to their eligibility for the £1 million prize, all Finalists will receive mentorship, resources and technical support from The Earthshot Prize Fellowship Program, a year-long programme for each cohort of 15 Finalists to accelerate the growth of their groundbreaking solutions. That support includes access to the Prize's robust network of influential businesses, investors, and climate experts, including The Earthshot Prize's Global Alliance of Partners, which is comprised of some of the world's largest businesses, donors, investors and environmental organizations committed to climate action.
The five Winners of this year's Prize will be selected by Prince William and the prestigious Earthshot Prize Council, a global body of activists, experts, and influencers championing urgent and innovative action to protect the climate and our natural environment. The Earthshot Prize Council is chaired by The Earthshot Prize Board of Trustees Chair, Christiana Figueres DBE, architect of the Paris Agreement.
The Earthshot Prize Council Members include: Prince William, Her Majesty Queen Rania Al Abdullah, Cate Blanchett, Sir David Attenborough, Ernest Gibson, Hindou Oumarou Ibrahim, Indra Nooyi, Jack Ma, Luisa Neubauer, Naoko Yamazaki, Dr. Ngozi Okonjo-Iweala, and Yao Ming.
The Earthshot Prize awards ceremony will take place on November 7 in Singapore. It will air around the world via broadcast partners to be announced in due course.
This year, for the first time, the awards ceremony will be accompanied by a series of events as part of Earthshot Week. Beginning Monday 6 November, the week will see global leaders, businesses and investors convene in Singapore to explore exciting opportunities with The Earthshot Prize Winners and Finalists, aimed at accelerating their solutions and bringing about tangible action to repair the planet. Members of the public will also be invited to experience local activations centered on the 2023 cohort of Earthshot solutions.
For more information about The Earthshot Prize 2023 Finalists, please visit www.earthshotprize.org.
Posted: September 21, 2023
Source: The Earthshot Prize