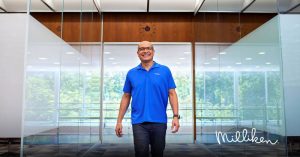 SPARTANBURG, S.C. — September 20, 2023 — Milliken & Company, a diversified manufacturer with materials science expertise across textile, specialty chemical, floor covering and healthcare applications, made America's Top 100 Most Loved Workplaces for the second year in a row. The list, presented by Newsweek and featuring Milliken as one of five manufacturing honorees, recognizes leading workplaces building employee-centric cultures as the basis of corporate success.
"At Milliken, our success starts with our team," stated Halsey Cook, president and CEO of Milliken & Company. "When our associates feel valued and respected, when they are empowered to grow, and when we all work to build a better future together, we create a meaningful impact for generations to come."
This latest honor comes on the heels of being recognized as one of Newsweek's Top 100 Global Most Loved Workplaces. Nearly half of Milliken's global workforce of 8,000 associates are based in the U.S., emphasizing the prominence of this award. The list was created after surveying more than 2 million employees from businesses with workforces varying in size from 50 to more than 100,000. The key areas included in the analysis are based on how well companies demonstrate the areas within the Spark Model as defined by BPI including Systemic Collaboration, Positive Vision of the Future, Alignment of values, Respect, and Killer Achievement. Employee sentiments and emotions indicating how engaged employees are, how positive they feel about their workplace, and how committed they are to the organization's success were analyzed to identify the Top 100 Most Loved Workplaces.
"With the rapidly changing workplace and competition for top talent, more companies are recognizing the importance of employee engagement and commitment," said Nancy Cooper, global editor in chief, Newsweek. "The workplaces that have demonstrated a commitment to their employees in 2023 are more likely to attract the best talent and deliver strong business outcomes."
For more information about careers at Milliken, visit careers.milliken.com.
Posted: September 21, 2023
Source Milliken & Company