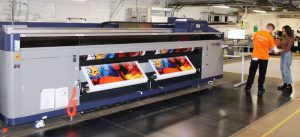 TW Special Report
Horizon Digital Print's investment in a digital machine from Vanguard Europe — the first in Ireland – is the central focus of Horizon's sustainability drive that has resulted in scooping Ireland's national Green Manufacturer Award ahead of the likes of global brands such as Coca-Cola.
Described as a fabulous user-friendly machine printing excellent quality products 10 times faster than previously at a fraction of the cost, Dublin-based Horizon Digital Print has also announced a major investment in Vanguard Europe parent company Durst's LIFT ERP software as it continues its growth and transformation into one of Europe's most sustainable and innovative printing companies.
Coca-Cola HBC Ireland and Northern Ireland was among the 10 finalists in the Green Business and Sustainability Green Awards 2023 in which Horizon triumphed in The Green Manufacturer category. The robust Vanguard VKR3200-HS roll-to-roll UV-LED printer runs at speed of up to 3,000 square feet per hour. Horizon Digital Print, which employs 100 people, has an 11 million euro turnover and is based across two sites in Navan Road, Dublin. Its primary markets outside of Ireland are the United Kingdom and France.
"The Vanguard is a fabulous, versatile and user-friendly machine — uncomplicated and the quality of print is excellent," said Declan Kelly, Print manager at Horizon Digital Print. "It has super-fast turnaround time, and the cost of the power consumption is predicted to be a tenth of the power our previous system, thanks to the LED functionality. The Vanguard is so versatile — from fabrics, PE, paper, mesh, PVC vinyl among many the materials we print on. It is an ideal product for our needs, with perfect image quality, and is extremely reliable. For one of our clients in Dublin, JCDecaux, we have many positive comments about the quality of the lightbox skins that are all produced on the Vanguard. We had a painless installation that only took two days followed by a couple of days training."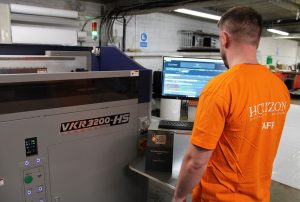 Derek Gillen, managing director of Horizon Digital Print, said: "As an already established Durst production house, investing in yet more state-of-the-art technology — this time from Vanguard — is an important step forward. Our big focus has been on energy reduction, which is why we were even more delighted to be win the Green Manufacturer Award this year, in the process beating the likes of household names such as Coca-Cola and others. The decision to purchase the Vanguard was at the center of sustainability drive — it's because of its green credentials."
Fabian Sottsas, managing director of Vanguard Europe, said: "We are delighted with this first installation in Ireland and to have played our part in the Horizon sustainability and wider company success story. It is all part of the Vanguard growing your business strategy where we work in partnership to help deliver new opportunities through our technology. The Vanguard VK3200 roll-to-roll machine sets new standards with high print quality and performance that is available at a competitive price point."
August 17, 2023