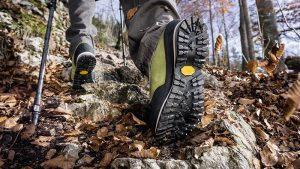 ST. GALLEN, Switzerland/ALBIZZATE, Italy — August 2, 2023 — VIBRAM, a global producer of high-performance rubber soles. and bluesign®, a Switzerland-based material verification solutions firm, are proud to announce the elevation of Vibram to a bluesign system partner. This marks a significant milestone in the fruitful collaboration between the organizations. The partnership, which began in November 2022, underscores their joint commitment to fostering sustainable practices within the footwear industry.
"The relationship between supply chain partners is often perceived as customer-supplier, involving hidden secrets. However, bluesign, as a neutral party, facilitates easier communication of ingredients and knowledge," said Igor Brassini, Group Compliance manager of Vibram. "Today, we are proud to announce our official partnership with bluesign as the first shoe sole manufacturer and the first footwear brand to be represented."
Durability and quality are keystones of sustainability. Vibram, a pioneer in shoe sole production, is committed to the manufacture of long-lasting, high-quality products. By using recycled materials and significantly reducing production waste, Vibram sets an unparalleled standard for responsible, innovative footwear production.
Over the past two years, the two companies have synergized their distinct strengths, resulting in shared know-how, connecting the footwear industry with the rigorous bluesign Chemical Standard.
"By offering expertise in chemical management, our mission is to reduce environmental impact and provide critical knowledge for making essential changes," said bluesign CEO Daniel Rüfenacht.
The partnership began with a scientific examination of the basic chemical requirements of the industry, which entailed analyzing internal operations, raw materials, and procedural analyses. The team subsequently gathered specific chemical information from raw material suppliers, which led to an investigation of hazardous substances and collaboration with chemical suppliers to explore reduction and replacement strategies.
This continuing process has helped Vibram enhance its internal procedures, understand its chemical components better, and review its Restricted Substances Policy.
"bluesign's methodology is among the most demanding in sustainability for textiles. Vibram aims to contribute its expertise to create a potential standard method for footwear that adds value to our industry rather than penalizing it," stated Marco Guazzoni, Global Sustainability director of Vibram.
Looking forward, Vibram and bluesign have set an ambitious goal: to analyze and certify Vibram's Component Shoe. This shoe, which embodies eco-design principles and sustainable practices, will serve as a testament to the footwear sector's commitment to sustainability at all levels.
Posted: August 2, 2023
Source: bluesign® / VIBRAM