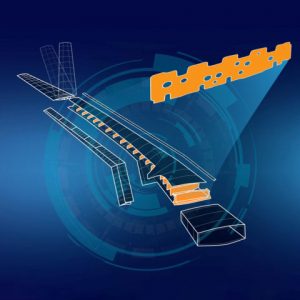 LE BOURGET, France — June 19, 2023 — Albany International Corp. announced today that its subsidiary Albany Engineered Composites (AEC) recently delivered the first components it is producing for the Airbus Wing of Tomorrow Wing Box Assembly demonstrator program. AEC's collaboration with Airbus represents an important part of its strategic efforts aimed at developing high volume industrialized and sustainable manufacturing technologies for next generation Airbus aircraft.
During the last three years, AEC has been collaborating with Airbus on a number of government supported R&D programs such as the Wing of Tomorrow and Clean Aviation. AEC applied its innovative 3D woven technology to this important wing application, which along with its proven industrialized capabilities in high-rate RTM processing, will produce high tolerance integrated parts such as wing ribs targeting cost/weight/performance benefit in next generation aircraft.
Brent Stevenson, AEC's senior vice president of Research and Technology, commented: "Advances in digitalization together with composite manufacturing innovations are demonstrating cost effective and higher-rate with reduced waste and energy consumption to produce next generation sustainable and lightweight composites products."
Greg Harwell, AEC president, added: "We are proud and excited to be working with Airbus to deliver lightweight and high-performing composite wing components that contribute to the extremely important sustainability goals of the aerospace industry. By developing composite manufacturing technologies capable of reducing factory footprint, capital equipment and production costs while supporting future rate, weight, and performance goals provides an excellent platform to execute our mission to be a partner of choice to the aerospace OEMs and Tier 1s."
Posted: June 19, 2023
Source Albany International Corp.