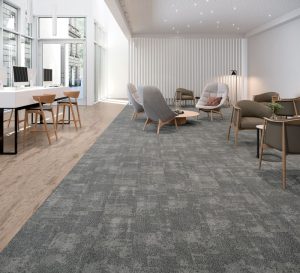 CALHOUN, Ga. — May 16, 2023 — Mannington Commercial (10th floor, 1039), a leading manufacturer of commercial flooring products crafted with purpose, is introducing the Crafted Collection. Available in modular format, the collection features a contemporary aesthetic and superior durability, making it an ideal flooring solution for interior spaces prone to heavy foot-traffic.
Two styles, Foam and Frost, each feature tonal, textural patterns and eight colors that range from mellow grays and warm neutrals to rich emerald, navy and red accents. Available in 12-inch by 36-inch tiles and made of Type 6 nylon fibers, the carpet collection delivers enhanced resistance against matting and abrasive wear. Its patented Infinity® 2 Modular backing withstands aggressive wet cleanings. These combined attributes allow Crafted to perform in high-traffic and multiple public space areas including office or hotel lobbies, dining environments and transportation facilities such as airports.
"The Crafted Collection expertly marries design, performance and leading environmental benefits into a beautifully crafted modular carpet collection," said Mannington Commercial Roby Isaac, Vice President of Commercial Design. "The result is a highly versatile flooring solution that can be used across any number of commercial interior spaces and projects."
To support the wellbeing of people in the built environment, 105% of the Crafted Collection products' embodied carbon is offset cradle to gate. All products in the collection carry a Type III EDP and published HPD. The products are also CRI Green Label Plus Certified as low-emitting for better indoor air quality. In addition, the Infinity® 2 modular backing is certified NSF/ANSI 140 Gold. The collection boasts a limited lifetime wear and backing warranty, a limited 15-year XGUARD® Stain Resistance warranty and a limited 15-year ColorSafe® Bleach Resistance warranty.
Posted May 16, 2023
Source: Mannington Commercial