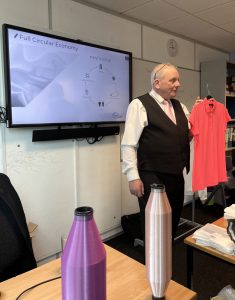 CONGLETON, England — March 7, 2023 — As a pioneer in hi-tech sustainable materials and owners of the first in-house circular economy offering in textiles, Meryl Fabrics® is keen to support future generations in making a difference by introducing Meryl Education Programmes.
The initiative, piloted successfully with forward thinking education provider Abbey College Manchester, involves an in-person presentation from Meryl Fabrics into the extent of which textile production is adversely impacting the environment, and sharing their insight into the latest technologies designed to mitigate future harm.
As part of a soft launch for Meryl Education Programmes, Peter Broom, Meryl Fabrics® co-founder and technical innovator, enjoyed visiting Abbey College Manchester, and presenting to A level and GCSE students across three very relevant subject areas: Textiles, Environmental Science and Business.
This latest move follows hot on the heels of Meryl Fabrics chalking up in 2022 some 11 winner and finalist trophies presented by international and UK bodies in recognition of their firm's major achievements in achieving sustainability with textile innovation, including Winner of the Circular and Recycling Award at the National Sustainability Awards 2022 and Winner of the Industry Award for Sustainability at the Professional Clothing Industry Association Worldwide Ltd (PCIAW®) and Winner of the Sustainability Award at the Med-Tech Innovation Awards 2022.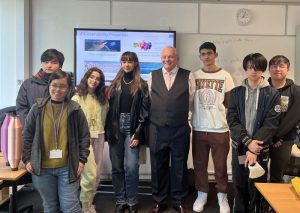 Broome commented: "The last two years has seen us cover a lot of ground in imparting our knowledge on revolutionizing the way in which textiles are manufactured, to eliminate microplastic shedding and reduce the overall environmental impact of professional clothing by closing the loop. However, much of this has been industry focused.
"For real, sustainable change to take place, we must capture the attention, hearts and minds of the industry leaders of tomorrow by supporting students keen to make a real difference, such as the individuals we were lucky enough to meet at Abbey College Manchester."
"Following on from this and the highly positive feedback we have received, we are now eager to share our insights with more educational establishments on a phased basis."
Commenting on the session, Chloe McLaughlin, teacher of Physics, Science Enrichment Lead and head of House at Abbey College Manchester, said: "We are very grateful to Peter and Kevin for taking the time out of their busy schedules to present to our students during the afternoon enrichment session. They delivered a highly insightful and engaging presentation, piquing the interest of our students keen to explore this incredibly important topic further."
Driven by problem solving, Meryl Fabrics uses Nylstar Hydrogen bonding technology to enhance the molecular structure of fibers; seal-in microplastics within the yarn and improve the durability of garments. Their continual innovation in Meryl® Eco Dye offers a waterless dyeing process, saving thousands of liters of water during manufacture of fabric as they re-engineer the present of apparel. Meryl Fabrics seeks to replace cotton with its exceptionally soft touch fabrics that feature natural stretch and moisture management properties that are designed to be recycled and offer other businesses a fully circular model in one place.
Posted March 7, 2023
Source: Meryl Fabrics