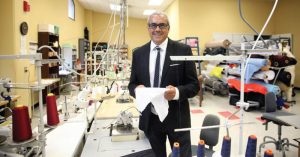 NC State's Dr. Andre West talks about the new Flex Factory and how it will benefit students and industry.
TW Special Report
When other universities reduced their textile education programs — melding polymer degrees into materials science, or disbanding textile departments all together — the Raleigh, N.C.-based NC State University's Wilson College of Textiles took  a different route and committed fully to the textile industry. Today, the college is the only college in North America dedicated to textile education.
As the college looks to the future — what the students need, and what the industry needs in its future leaders — it looks at innovative ways to support all involved parties.That desire, coupled with current interest in nearshoring and the demand for U.S.-produced textile products, led the college to identify a need for a space to help creative and entrepreneurial types get new product and business ideas off the ground.
To that end, the college recently announced the Flex Factory — a one-stop-shop offering resources such as high-tech equipment, knowledge, expertise and supplies — open to students, researchers, start-ups and industry where ideation, innovation, collaboration with a focus on sustainable manufacturing can thrive. The idea is that the unique space will continue to evolve once it's up and running so it can continually meet the needs of the textile industry.
Textile World recently spoke to Dr. Andre West, associate professor, and director of the Zeis Textiles Extension (ZTE) at the Wilson College of Textiles, about the Flex Factory. Before entering the world of academia as a professor, Dr. West — a graduate of England-based Huddersfield University with a degree in Textile Design —was involved in an entrepreneurial partner-ship that designed and produced a clothing collection that was showcased at London Fashion Week for two consecutive years. He also worked as a design consultant for a trend forecasting company and The Design Council of Great Britain. Later, after a move to the United States, Dr. West designed knitwear for a New York City-based fashion house before establishing his own knitwear business. This business grew into a vertical knitting and sewing operation that had showrooms in fashion markets nationwide as well as three retail locations.
Dr. West's personal experience as an entrepreneur makes him an ideal person to understand the issues and potential roadblocks when developing new products or attempting to open a textile business — valuable experience as he helps the Wilson College of Textiles establish the Flex Factory.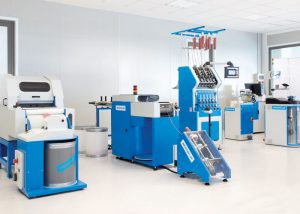 TW: What is the Flex Factory?
Dr. West: This Flex Factory project is a two-phase project. Phase I,"The Prototype Lab,"is under-way to build out the equipment needed to make textile and apparel products, including yarn spinning, cutting, sewing, and printing equipment, at a research scale. Phase II involves a complete space up-fit and renovation to bridge our current Senior Design course space with the Flex Factory space, and add additional features including a materials library and conference rooms. It should be completed by the end of 2024.
In the Senior Design class, seniors in textile engineering and textile technology are grouped in teams of three to four students and assigned a year-long, industry-sponsored project. Over the course of the fall and spring semesters, teams experience the design process first-hand beginning in the fall with project planning, evaluating state-of-the-art technologies and ideation, and then moving into the iterative prototyping and testing process for their ideas in the spring. Senior Design culminates in a Design Day presentation where each team demonstrates the results of their hard work.
The Phase I Prototype Lab is a small-scale manufacturing space designed for creating textile-based products. It's perfect for quickly prototyping new ideas and experimenting with innovative designs. The best part is it's flexible— you can use it to make all sorts of things, from finished textile products to components or accessories used in other products.
One of a prototype's most significant benefits is its efficiency.You only need a few outside resources to get started —just a tiny amount of space, energy, materials and time. For example, we can 3D print our own buttons or exactly match the sewing thread for a house digitally printed fabric using the digital dyeing Twine machine from Israel-based Twine Solutions. Because the Flex Factory is designed for small-scale production, you can make products in limited runs, which is excellent for testing the market and scaling up a business gradually.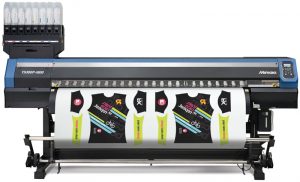 TW: Why build this  at the Wilson College  of Textiles at NC State University
Dr. West: The Wilson College of Textiles at NC State, with its 124-year history, is recognized as a world leader in textile education and research. It's located in the Research Triangle region of North Carolina and serves as a global technology hub for textiles. Interestingly, North Carolina and its neighboring states employ 93 percent of the U.S. textile manufacturing workforce, with 49 percent of those jobs located within a three-hour drive of central North Carolina. That makes NC State and the local region critical for the textile industry's growth.
The college and the surrounding area offer two essential components that are key to the industry's success: technology and product innovation, and a robust supply chain that can effectively bring those innovations to market. Together, these elements form a powerful engine for textile growth and development.
Within the college is the department that I manage with our team of textile industry experts, Zeis Textiles Extension for Economic Development (ZTE). ZTE provides training and certification in textiles and programs for improvement and innovation and serves the textile industry's prototyping and pilot production needs in its five laboratories — spun yarn, knitting, weaving, dyeing and finishing, and physical testing.
Also, right across the street from the Flex Factory on Centennial Campus, we have Raleigh Founded, an entrepreneurial support organization that uses physical convening space, community connection, and hosts events. The NC State Entrepreneurship Garage is housed in this space and offers a venture creation and a common prototyping space designed for student entrepreneurs. It serves as a hub for students across campus to come together and explore their entrepreneurial ideas and interests. In partner-ship with Raleigh Founded, students call the Garage home where they work on challenges alongside non-university businesses. Members in this space have access to hundreds of entrepreneurial-minded peers, which makes networking and relation-ship-building easy.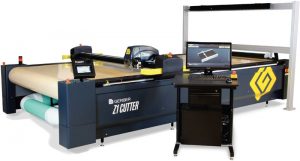 TW: How did the idea for The Flex Factory come about?
Dr. West: This idea has been a long time in the making. So many people at the Wilson College of Textiles have discussed the need for this incubator and research space for years. And now that we're up and running, we're excited to see what kinds of fantastic textile products and companies will come out of the Flex Factory!
The college has a strong track record of teaching students how to succeed in the industry. We recognize that starting and prototyp-ng textile businesses can be expensive due to the high cost of machinery and other startup expenses. The Flex Factory can serve as a valuable stepping-stone to encourage entrepreneurship in the textile industry and empower young entrepreneurs.
At the Flex Factory, we're all about creating a supportive ecosystem for textile startups and entrepreneurs. Whether you're a current student, alum, faculty, or staff member, or someone with an excellent idea for a sustainable, domestically produced textile product, we're here to help you develop your business. We offer many resources to companies, like design and fabrication tools. Plus, we've got some strategic partnerships that help us further our goal of growing the textile industry region-ally and nationally.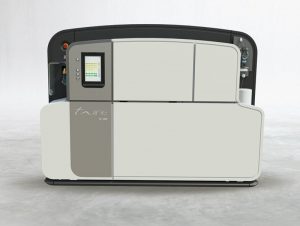 TW: How did you become involved with the Flex Factory?
Dr. West: After spending seven years as a faculty member in Textile and Apparel Technology and Management teaching textile and apparel design, I became director of Zeis Textiles Extension in mid-2019. There definitely were better years to be held accountable for an operation that thrives on outside visitors and production.
We began working on bringing the Flex Factory concept to fruition. Still, we had to delay the development of that space during the early stages of the pandemic when we switched our focus to mask production and supporting the textile industry with training and workshops for personal protective equipment manufacturing and sourcing.
Everyone remembers 2020 as the year of the mask or the lack of masks. The university shut down for three months around spring break. So, we looked for innovative ways to make masks. We took three pieces of manufacturing equipment and quickly turned them into mask-making machines. First, we used our pleating machine to pleat the innovative washable nonwoven fabric made at the Nonwovens Institute right next door. Next, we utilized a Lectra cutter that could magically re-pleat the fabric using its vacuum system. And finally, we used a sonic welding machine to complete the construction. We even knitted the elastic for the ears.
We made masks for NC State campus police and all the facilities workers that keep the university safe and functioning.The experience showed us while we had a small space, we had right equipment for the endeavor and we could punch way beyond our weight. But, it also dawned on us that the university had equipment to be used for the greater good, and like many textile companies, we had pivoted. It made us realize in manufacturing textiles and apparel, American ingenuity was not lost, and there was so much talent in the college we just needed to focus on that talent after this event.
TW: How will students engage, and how will this prepare them for their careers?
Dr. West: This a strange one. Here is my personal view of this as I was in this predicament 40 years ago, and things have stayed the same in my opinion, or have even become worse. When some students walk into fashion or textile college as a freshman, they want to change the world— they have many ideas and little knowledge of how textiles work. So, over the next few years, we will teach them the reality of the industry and how to program and use this technical equipment. Still, when they graduate, they realize that starting their own business takes a lot of money and a lot of work to be an entrepreneur and take all the risks. So, we are here to help them move their ideas to reality now they know what they are doing.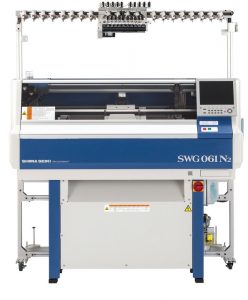 TW: How does industry play a part in the Flex Factory?
Dr. West: We need four things from the industry. Firstly, from the textile machine makers, we see this as a working showcase for cutting-edge equipment, especially equipment with a small footprint.These machines can be utilized for research projects by faculty, students, and others, but also are used in the real world. So, we want to make this space a showroom for the best equipment in the world. Agreements with new machine suppliers would enable the Wilson College of Textiles to have access to state-of-the-art technologies and expertise, and also help the machine supplier establish a strong foothold in the southeastern region of the United States. We already have some strategic partners in place, but welcome more!
Secondly, we need projects. Our faculty and students are at the cutting-edge of technological advancements, and we need to help to get their ideas and innovations into the marketplace.
Thirdly, we need funding to make this Phase II happen at the university, and some industry members have supported this plan. With the help of the North Carolina Textile Foundation, engagement, partnership, and philanthropy will be on show worldwide.
Finally, come and visit. We can talk all day long about the space, but seeing it first-hand with the machines running is the best way to understand the vision. There are plenty of showcase events happening in the future where we will do tours, but if you are in the neighborhood, let us know! The best product that comes out of the NC State Wilson College of Textiles is the students. They are amazing before they walk in the door to be taught by world-class faculty, making them even more amazing when they head out into the industry.
TW: Tell us what type of equipment is your first choice for this space?
Dr. West: We already have an abundance of equipment in our labs, especially on the research and testing side, and we have many industry-size machines that can spin yarn, knit, or weave. However, we still need prototype equipment and the equipment to finish the products thoroughly. We received a grant from the Department of Defense called Defense Manufacturing Community Support Program (DMCSP), which enabled us to purchase some equipment for the Prototype Lab. The DMCSP aims to invest long-term in critical skills, facilities, workforce development, research and development, and small business support to strengthen the national security innovation base.
TW: How will the Flex Factory evolve in the next five years? The next 10?
Dr. West: One-word — sustainability! Nearly every student walking into Wilson College of Textiles is concerned about this topic, but we must give them the tools to move forward. Long-term, we are developing new processes to address needs in circularity and automation. Our graduates drive the direction of the future textiles and apparel industry and will be responsible for future technology investments. The textile industry is the second highest polluter after the energy industry.
For the world to be sustainable, we must step up and do what we can to fix a problem many think is not attainable. I am seeing a renewed focus on more sustainable fibers such as hemp and kenaf here in North Carolina; and banana and pineapple fibers can be utilized as a secondary industry in Central America.
Recycling fabric post-industrial and post-consumer waste still has a long way to go, but the Wilson College of Textiles is forming key partnerships to share information. Our graduates drive the direction of the future textiles and apparel industry and will be responsible for future technology investments.
TW: Why do you do what you do? What motivates you?
Dr. West: Someone asked recently why I am so positive about this concept. My response was, what choice do I have? This is an opportunity to help everyone in this industry. We have talent all around us and outstanding companies work with the Wilson College of Textiles and ZTE daily.
Archimedes said,"Give me a lever long enough and a fulcrum on which to place it, and I shall move the world."The new lever is the Flex Factory. Develop new ideas with expert help.
March/April 2023