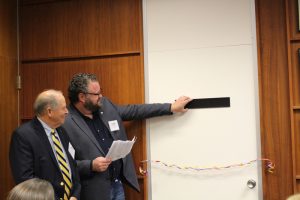 RESEARCH TRIANGLE PARK, N.C. — December 13, 2022 — AATCC recently hosted hybrid Interest Group and Research Committee Meetings online and at the AATCC Technical Center in Research Triangle Park, N.C. Administrative meetings were held remotely in October.
Interest Groups started off the week with a series of speakers on Monday afternoon. The presentations were recorded and are available to AATCC members at https://members.aatcc.org/publications/.
Chemical Applications: Sustainable Dyeing for Black Knits; Bryan Dill, Archroma
Concept 2 Consumer: Dyestuff Overview; Rod Pedemonte, Dystar Americas
Materials: American Hemp for Textiles and Apparel—Where are We Now?; Guy Carpenter, Bear Fiber
Rising Professionals: Going from the Lab to Leading a Sourcing Team and How Being a Textile Chemist Helped; Rob Smith, Upwest
Research committees met Tuesday and Wednesday followed by the AATCC Board of Directors meeting on Thursday. Research committees develop and maintain all the standard test methods and procedures published in the AATCC Manual of International Test Methods and Procedures. In additional to this work, several informative presentations were shared that laid the groundwork for future standard development. Highlights from the research as well as administrative committee meetings are available online. https://www.aatcc.org/aatcc-events/research/#MeetingsHighlights
A total of 247 participants from 22 countries registered for the meetings. Represented countries include Bangladesh, Brazil, Bulgaria, Canada, China, Germany, India, Indonesia, Italy, Malaysia, Mexico, Morocco, Pakistan, Peru, Poland, South Africa, Switzerland, Taiwan, Thailand, Turkmenistan, United Kingdom, and United States of America.
A special feature of the Fall 2022 meetings was the dedication of the AATCC Technical Center library. The library was named in honor of former Executive Vice President John Y "Jack" Daniels with a small ceremony. Newly-elected members of the AATCC Board of Directors were announced at the Annual Meeting and incoming AATCC President John Crocker received the president's pin from former President Robert Lattie at the conclusion of that meeting.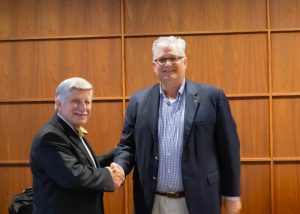 Looking Ahead
While various committees hold meetings and events throughout the year, most meet during committee weeks each Spring and Fall.
The next round of Administrative committee meetings will be April 13-14 & 17-18, 2023. These meetings are all virtual. Committees addressing topics such as publications, conferences, and membership are free and open to all. Watch the AATCC website and other media for updates. Registration for Spring meetings will open early in 2023.
www.aatcc.org/aatcc-events/admin/
Research committees will meet May 16-18, 2023 virtually and at the Technical Center.
www.aatcc.org/aatcc-events/research
Posted December 13, 2022
Source: AATCC