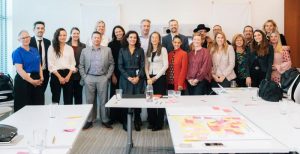 NEW YORK CITY — October 25, 2022 — To mark the third annual World Circular Textiles Day, which took place on October 8th, an action-oriented Roundtable with a select group of industry pioneers came together at the United Nations Headquarters in New York City to identify realistic and achievable priority milestones over the next three decades to create the foundation for a Roadmap to Full Textiles Circularity.
Representatives from the co-founding organizations of World Circular Textiles Day (WCTD), including Circle Economy (Netherlands), Centre for Circular Design (London), and Worn Again Technologies (UK), together with Lenzing Fibers (US) and in collaboration with the United Nations Conscious Fashion and Lifestyle Network hosted the Circular Textiles Roundtable with key stakeholders from across the circularity landscape, including textile collectors and sorters to brands/retailers, industry associations and policymakers.
The United Nations Conscious Fashion and Lifestyle Network, a joint initiative of the Fashion Impact Fund and the United Nations (UN) Office for Partnerships, is an UN-hosted online platform for industry stakeholders, media, Governments, and UN system entities to showcase collaborations that accelerate the implementation of the Sustainable Development Goals.
Participants were brought together to vision and populate a textiles circularity roadmap to 2050, identifying key milestones for transitioning from the current linear model of 'make, use and waste' to one which is circular, where products and materials are kept in continual circulation, and replace the use of virgin materials use, and industry workers are supported inequitable, socially just and resilient societies.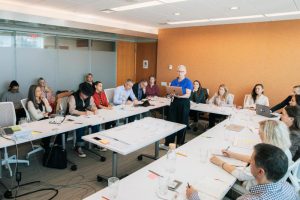 The roundtable took a future system thinking approach, across three core themes: Materials and Planetary boundaries, Products and Services, and People and Society, and across three distinct development phases over the next 3 decades.
Cyndi Rhoades, founder of Worn Again Technologies, and co-founder of WCTD shared: "The scale of change required to transition to a fully circular textiles industry is immense but can be broken down into bite-sized and achievable phases and delivery plans. Designing and aligning on circular strategies for implementation and action across the industry today is crucial for achieving future goals and delivering beneficial outcomes for society, economics, and the environment in equal measures. Convening these committed industry leaders to evolve collective knowledge and strengthen relationships is a crucial step in fast-tracking necessary change."
Kerry Bannigan, executive director, of Fashion Impact Fund, added: "The United Nations Conscious Fashion and Lifestyle Network fosters transparent, inclusive, and transformative engagement of global stakeholders to drive urgent action for sustainability. The Circular Textiles roundtable aligned with our objective to mobilize expertise, innovation, technology, and resources towards a sustainable and inclusive COVID-19 recovery, with the Sustainable Development Goals as a guiding framework."
Key insights generated by some of the industry's leading pioneers included:
Technology — a clear, rationalized plan for scaling up between now and 2050 is needed, for all parts of the collecting, sorting, pre-processing, and recycling stages
Scope 3 — education, training, new investment, and business models are needed to transform the supply chain, including multi-stakeholder models for ownership and distribution
Data/Digitization — a data-driven approach embedded as soon as possible, to enable greater understanding and efficiencies for circular flows
Policy — development of Government policies for micro, meso, and macro actions, that include alignment between global North and South actors
Overall, the group expressed a desire to see 'turbo stakeholder collaboration' and more partnerships established, at a greater pace. They also noted a lack of information and action around the social innovation potential for the circular textiles industry and requested more information on realistic and fair proposals for transformation.
Tori Piscatelli, regional marketing manager, Lenzing Fibers, commented: "Witnessing leaders across the textile industry come together at the United Nations to engage in collaborative exercises and conversations on circularity, in itself, shows the urgency and need to work together to set up systems and guidelines to achieve this common goal. Most notably, I remember one participant saying 'We need to go faster. Let's get there now.'"
Karla Magruder, Accelerating Circularity, added: "At Accelerating Circularity we call ourselves a "Do Tank" and ask everyone we work with to provide their expertise and energy to making the textile-to-textile circular transition. It's not enough. At WCTD 3 key systems, Product & Services, Materials and People have been put forth as essential. To enable circularity, we must align on all strategies to implement and accelerate this necessary revolution. "Action", "change", and "fast" are descriptors we use for the textile industry. Let's show the world we can take the required ACTION to CHANGE FAST and create a textile industry worthy of the needs of our industry and world."
The roadmap template will be released in the coming months and will be used as a foundation for integrating existing industry circularity and decarbonization commitments, as well as for setting a longer-term framework across a range of topics, including transparency, traceability, social metrics, legislation, design, circular materials, and products & services. The aim of the Roadmap is to focus industry activities on aligned activities that will accelerate circularity momentum while supporting the industry in reaching its climate targets and delivering against multiple UN Sustainable Development Goals.
Participants
22 x In-Person Roundtable Attendees:
Marisa Adler, Senior Consultant, Resource Recycling Systems
Chad Bolick, VP Brand Sales – Global Key Accounts, Unifi Manufacturing, Inc.
Steven Bethell, Founder, Bank & Vogue, BVH Services Beyond Retro
Carmen Gama Ramirez, Director of Circular Design, Eileen Fisher
Steven Usdan, Founder, Giotex US
Stephanie Warrick, Industry Engagement Director Apparel Impact Institute
Tricia Carey, Director of Business Development – Americas and Denim, Lenzing Fiber
Cyndi Rhoades, Founder, Worn Again Technologies
Rebecca Earley, Professor of Circular Design Futures, UAL
Caroline Rush, CEO of, the British Fashion Council
Caitlyn Holt, Director, Product and Business Innovation – Cone Denim, Elevate Textiles
Cynthia Power, VP of Brand Success, Recurate
Martin Böschen, CEO, Bei Texaid AG
Ann Runnel, Founder & CEO, Reverse Resources
Boris Mercier, VP of Marketing, Recover
Peter Majeranowski, CEO & Co-Founder, Circ
Karla Magruder, Founder, Accelerating Circularity
Paola Laudazi, Senior Accounts Manager, Eon
Raymond Randall, Sr. Manager, Textiles – Sustainability Growth Solutions, WM
Kerry Bannigan, Executive Director, Fashion Impact Fund
Megan McAstocker, Head of Events and Programs, Fashion Impact Fund
Tori Piscatelli, Regional Marketing Manager, Lenzing Fibers
5 x Virtual Attendees:
Hilde Van Dujin, Capacity Development Programme Lead, Circle Economy
Arnoud Passenier, Strategic Advisor on Circular Economy, Dutch Ministry of Infrastructure & water Management | Environment Directorate | International Affairs
Taylor Hill, Senior Manager Circular Solutions, Bleckmann
Ke Wang Program Director, PACE (on behalf of Stientje vanVeldhoven, Vice President/Regional Director Europe, WRI)
Posted: October 25, 2022
Source: The Lenzing Group