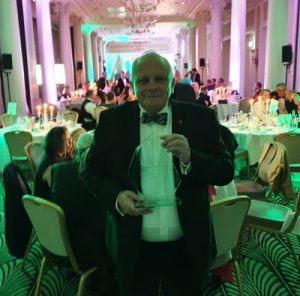 CONGLETON, England — October 10, 2022 — Pioneering sustainable textile manufacturer Meryl Fabrics®, has been presented with a highly coveted National Sustainability Award at a prestigious ceremony, held at the Waldorf Hilton, London.
In recognition of its revolutionary manufacturing processes aiming to significantly reduce the impact of the textile industry on the environment and offering 'infinite recyclability', Meryl Fabrics collected the Circular and Recycling Award. Furthermore, the firm also secured finalist status for the National Sustainability 'Water-Reduction' award and 'Innovation' award.
Celebrating and distinguishing the breadth of innovation across many different sectors The National Sustainability Awards, now for its second annual ceremony, applauded the pioneering work and commitments made as we strive towards a more sustainable and better future.
Peter Broom, Co-Founder and Technical Innovator at Meryl Fabrics® commented: "Following a series of recent award wins, we are delighted to receive further authoritative recognition for our direct solution to mitigating the adverse impact that the textile industry is having on our environment. We are innovating each and every day to improve what we have pioneered and we relished the opportunity to share best practices with our peers at the ceremony, and an insight into our efforts to approach a sustainable future through innovation."
Meryl Fabric®'s mission is to lead a radical change in the textile industry through advanced hydrogen technology, creating 100% recyclable, high-performance fabrics which do not release microplastics, with no water consumption and no use of chemicals.
Dedicated to reducing the negative impact of the textile industry on the environment, Meryl Fabrics® is providing large industries with the expertise as we drive forwards into the circular economy and complete sustainability.
For more information on Meryl Fabrics, visit https://merylfabrics.com/
Posted: October 10, 2022
Source: Meryl Fabrics®