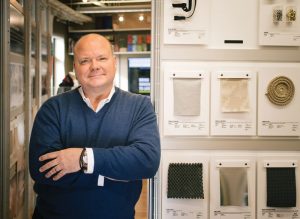 Glen Raven is "Continuing its Pattern of Good" as it shares progress towards its goals set in its inaugural corporate sustainability report.
TW Special Report
Glen Raven Inc., Burlington, N.C., recently released a report detailing the company's progress in 2021 towards its goals set forth in its inaugural corporate sustainability report.
"When we issued our first corporate sustainability report last year, we wanted to share a set of aspirational goals to inspire advancement," said CEO Leib Oehmig. "This updated report is another step in that journey, further demonstrating our commitment to accountability with metrics about our progress so that we can keep striving for improvement.
"Glen Raven desires to have a positive impact on our global community by supporting the planet on which we live and the communities that we serve," Oehmig noted. "Throughout the company's history, this is Glen Raven. It's who we are as a company and it's about doing the right thing. This is a reflection of the Gant family values and is core to Glen Raven."
Textile World recently had the chance to catch up with Oehmig to discuss the company's progress detailed in the report.
TW: The progress report focuses on two foundational pillars — "Supporting Our People and Communities" and "Sustaining Our Planet." In what areas do you believe the company has made the most progress in the past year?
Oehmig: The year 2021 was a year in which we were really working to build some of the foundational elements. Supporting people and communities has been a hallmark and focus for Glen Raven throughout its 142 years.
So, in terms of new opportunities and sources of new, measurable improvement, I would say we have made more progress in sustaining our planet this year.
As was noted in the report, over the past couple of years we have gone from zero use of renewable electricity to now 25 percent use. Outside the United States — both in France and China — we have achieved 100-percent utilization of renewable energy.
Additionally, we were very deliberate in terms of our desire and intention as it relates to sustaining our planet when working on the design for our new capital projects to expand capacity. It really gave us an opportunity to look at power utilization and efficiencies in equipment and process design in ways that would be most impactful.
We are equipping our plants with state-of-the-art weaving machines, LED lighting and modern HVAC systems. These improvements, and others, helped us decrease our scope 1 and 2 carbon emissions by 33 percent between 2019 and 2021. As it relates to our broad sustainability efforts, it certainly was an opportunity to see the measurable impact we are having and that really provides the motivation to push further and to aspire to do much more.
This report gives us the opportunity to drive a stake in the ground and not only look for new and innovative ways to support both our associates and the communities that we serve, but also to hold ourselves accountable.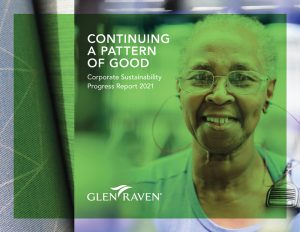 TW: Tell us about the steps Glen Raven has taken to foster a more diverse and inclusive workplace. How has the plan impacted and fortified the company's existing culture?
Oehmig: We've always viewed ourselves as a relatively diverse company. When you consider that we operate in 23 countries, we've always had a global point of view and certainly have benefited from differing points of view and different cultures. For us, it came down to being able to identify new opportunities and then establish goals that we can share with our associates and collectively hold ourselves accountable to do more.
As I mentioned, this really was a foundational year for Glen Raven. We engaged BSR [Business for Social Responsibility™] — a leader in diversity, equity and inclusion [DEI} — to help guide our journey to fostering a diverse and inclusive workplace. We defined what constitutes leadership and first line supervision across our regions and divisions to establish a clear baseline for measurement, among other foundational actions.
From a cultural standpoint, the company reflects the values of the founders — the Gant family — and how we can support both our associates and the communities that we serve has always been top of mind for us.
TW: Some 73 percent of Glen Raven employees recommended the company as a great place to work. But given the nature of the current economy with low labor participation and low unemployment, how difficult has it been to attract and retain new associates?
Oehmig: It has been difficult. We are operating in the same environment as our peers, and across all industry sectors it appears we have similar challenges. Part of Glen Raven's communication with current and prospective employees is to make that compelling case — to be transparent about things we are doing that have a positive impact on our global community and to really articulate why Glen Raven is a great place to work.
But also, our industry continues to work to tell the story about the textile industry today versus what it may have been for our parents' and grandparents' generation. If you are successful in the textile industry today, it's likely you are doing something pretty special. So, it's not only us telling Glen Raven's story and what makes it compelling in terms of working here, but also from a broader industry perspective we are working across the industry and for our peers to help tell the story of what a great place it is from an industry sector point of view.
TW: How receptive have employees been to the people goals, particularly in volunteering?
Oehmig: Very receptive. We have a community impact team that works to identify causes our associates are passionate about because we really want to respond to the communities that we serve. We currently serve more than 200 charities globally.
We want to determine where Glen Raven can make the greatest impact on our global community, and where we can focus our resources to allow us to move to needle in the greatest way. For us to be able to look for new and impactful ways to support the communities in which we operate is a tremendous priority.
One of the areas we have focused on, but now are really shining a light on, is early childhood education. That is not only through a teacher leadership academy that we support, but also in China where we are supporting a program that helps support young children to make sure they have the resources that they need to get a great start and achieve early success. Studies show you need to make an impact before a child reaches the third grade, and that's why Glen Raven has identified early childhood education as an area of focus.
TW: In serving the community, what areas have been most impactful over the past year?
Oehmig: We really try to respond to the individual needs of each community, whether that is disaster relief, keeping the community clean, or supporting children in need, for example. There was so much hardship related to the pandemic and supporting families and children who lacked basic needs was a focus. We have reached out to individual communities and let them make the decisions at the local level in terms of where the company can make the biggest impact.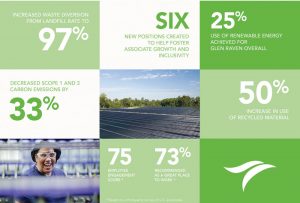 TW: In terms of global impact, what has been the most important thing Glen Raven has achieved in the "Sustaining the Planet" pillar?
Oehmig: Number one is diverting waste from the landfill. We have a goal to implement 100 percent landfill-free practices by the end of this year, and we're proud to have reached a diversion from landfill rate of 97 percent for the overall company in 2021.
Number two is energy management. Twenty-Five percent of our energy usage comes from renewable sources now. And as stated earlier, we are actively working to reduce emissions.
And finally, number three is the increased utilization of recycled materials — making products using recycled content, as well as working throughout the supply chain to help recycling efforts to collect fabrics and bring them back for reprocessing. We have improved our use of recycled materials 50 percent since 2019 and are designing new products that will increase the use of recycled content. We also have recycling efforts underway, "Recycle My Sunbrella®" being one of those efforts, where we have recycled more than a million pounds of fabric to date. That's something we've put a heightened focus on with a goal of recycling another million pounds by 2025.
TW: Are products featuring recycled content different from standard products, or marketed differently?
Oehmig: All of these recycled programs are under the Sunbrella® brand, and therefore they have to meet the same performance attributes as their peer products. We're not going to jeopardize the brand promise from a product design standpoint. When we first started creating products utilizing recycled materials, we came at it with the sustainability story, but what we found is that products were adopted more for their aesthetics and the design. The recycled content piece was secondary. But, that gives us a great story to tell — it not only means we have a positive impact on the planet, but we're also designing beautiful products that meet the same performance criteria and have the same performance attributes as all of our Sunbrella products.
TW: Has the dramatic increase in energy prices since the goals were originally created impacted the company's progress towards energy sustainability?
Oehmig: To date, it has not. We remain focused on the goals that we outlined, and as I mentioned 25 percent of our energy today comes from renewable sources. We do feel that we will remain on that track.
Obviously in Europe, we're facing incredible challenges. But that is where we use more renewable energy and I don't see that slowing down. We have a presence in France, which is one of the leading adopters of renewable energy, so that is certainly positive. And we are using biomass in China. In its five-year plan it has its own sustainability goals with renewable energy as a piece of that, and we are participating there.
Certainly, the United States is where we are now very aggressively working to move more of our own requirements to certified renewable sources. That move has been a bigger focus over the past couple of years, but our interest in renewables goes back to 2011 when we built our first solar installation. Glen Raven now owns two of the largest privately held solar installations in North and South Carolina, which was all part of our learning curve. We started down this path towards utilization of renewable energy making sure that we understand the implications and how to make the most of our efforts.
TW: Do you foresee any business challenges that may affect Glen Raven's future sustainability progress?
Oehmig: We have to adapt to the environment in which we are operating, and our resolve to meet these objectives has not wavered at all.
Glen Raven has always operated under the mantra of "do the right thing," and now the next generation of shareholders, associates, prospective employees and customers really want transparency and they want to know what you stand for. They want to know not only which markets you participate in and how you're going to participate, but they also want to know why we participate, which is really the purpose of why we exist and how we can make a positive impact on our global community. And that's ultimately the foundation on which everything we have talked about today has been built.
July/August 2022