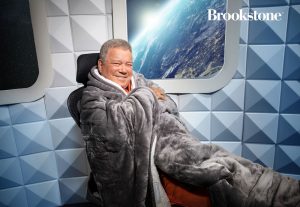 NEW YORK CITY — August 22, 2022 — Bluestar Alliance LLC has entered into a license agreement with CHF Industries for Home Textiles and Soft Goods for Brookstone.
CHF Industries, recognized as a leader in the design, manufacturing and distribution of consumer home goods and textiles will expand the Brookstone home category, developing Brookstone branded heated blankets and heated throws, air mattresses and air beds, bedding, robes, towels and additional home goods.
Brookstone has a successful history in the home category especially with heated blankets and heated throws. The newly formed partnership with CHF Industries will continue to support and expand Brookstone's commitment to innovation in the category. CHF Industries design and sourcing abilities will ensure that the high quality standards that Brookstone commands is globally upheld.
Brookstone is an iconic American brand, founded over 50 years ago in New Hampshire. Today it is a highly recognized brand which develops and offers quality and innovative merchandise. Brookstone product is currently distributed through a multi-channel platform of retail, wholesale, catalog and E-commerce. The company has leveraged the success of its breakthrough products in entertainment, wellness, home and travel to become a true lifestyle brand and a household name.
"CHF Industries will develop products that promote the Brookstone legacy of quality and innovation, utilizing best in class materials and technology, while expanding the home category of solution-oriented products that help 'Do Life Better'. We look forward to the advancement in design and technology of the Brookstone home products especially for the heated blankets and throws," noted Joey Gabbay, CEO at Bluestar Alliance.
"With over 90 years of experience in making home products and being recognized for their integrity and craft, this partnership will continue our commitment to providing innovative product of the highest quality uniting two iconic brands, CHF Industries and Brookstone," commented Bluestar Alliance COO, Ralph Gindi.
"Together CHF and Brookstone are heating up the home space with new and innovative products to enhance people's lives," stated Spencer Foley, president and CEO at CHF Industries.
Posted: August 22, 2022
Source: Bluestar Alliance LLC